Save money when decorating your tree and table this Christmas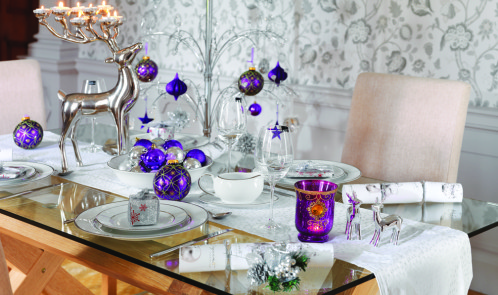 So have you got your tree up and your Christmas decorations? I have and lots of outside lights too. If you haven't started or thought about it, don't despair.
Here are some great tips and ideas on decorating your tree and Christmas table for less this year.
Tree
 A box of crackers can be purchased for a very reasonable price and act as a great addition to any tree. Rest them on branches evenly around your tree and when Christmas is over they can either go into storage or be pulled when the tree is taken down to continue the Christmas spirit into January.
Large ribbon doesn't just have to be used at the top of the tree. It also looks great tied in big elegant bows on individual branches as an alternative to tinsel. Try to purchase ribbon with wire edges as this will provide structure. When unravelled from the reel it has a lovely spiral effect around your tree, or draped in long flowing lines.
If possible, try to use a colour scheme on your tree that already exists in your room to make the tree look like part of the décor. It will add more depth to your room and create a Christmas atmosphere without detracting too much attention from the theme of the room.
If your existing baubles look a little tired, simply changing the colour of the ribbons will give them a new lease of life. "Just like fashion, Christmas decorations come around in trends and tinsel is a case of 'love it or hate it'. It can be very hard to get right but when positioned carefully can completely transform a tree and create extra sparkle when it reflects the fairy lights.
Less is more. Tinsel doesn't need to be everywhere and often there are alternatives – such as adding to a fireplace, piece of furniture or bannister.
Draped on a tree, tinsel can provide real depth and a splash of colour. The trick is to start at the top and work your way down, in a spiral with even spacing of approximately one or two feet between each line.
Always arrange tinsel before adding the baubles and any other decorations.
If possible, try to use thick or two tone tinsel for extra interest.
Table
Make sure your table is festive and elegant with colour coded detailing and co-ordinated tableware.
The focus of a good Christmas table will always be the centrepiece. If budget is tight, it doesn't need to be lavish or expensive and can be created quite simply with a plate or wide bottom vase with a small wreath and a candle. Mrs BH says: I love the reindeer tea-light holder in the picture above. It can be used year after year, so is worth the investment in my opinion.
If you are worried about real candles for safety reasons, a realistic imitation powered by batteries is the perfect alternative. Mrs BH says: I have a very realistic artificial candle. The battery lasts around two years and the kids can't do any damage with it.
Once you have the table centrepiece, work towards creating something similar for each place setting. You can even try colour coding your napkins to the central theme and use ribbon tied in an elegant bow as an alternative to napkin rings.
If you're feeling adventurous try folding napkins to really impress your guests. There are some very detailed online tutorials demonstrating a variety of shapes and objects.
These tips were provided by Penny Johnson, interior designer at Leekes, a department store and online retailer that sells a range of products from furniture to accessories.