New Aldi Specialbuys kitchen range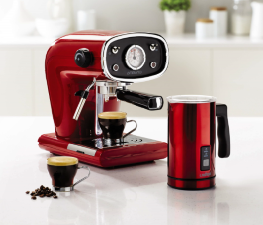 What's Aldi got cooking for us in this Thursday's Specialbuy? Well it's a new kitchen range including everything from Spice Grinders and Soup Makers, to Deep Fat Fryers and Slow Cookers. It's in stores on 22nd October, whilst stocks last.
If you are a coffee lover, Aldi's retro inspired Espresso Maker (£59.99) may appeal. Available in gunmetal grey, pearl and red, the espresso maker is easy to use and features a built-in steam nozzle for frothing milk to creamy perfection. It could make a very nice gift along with Aldi's Coffee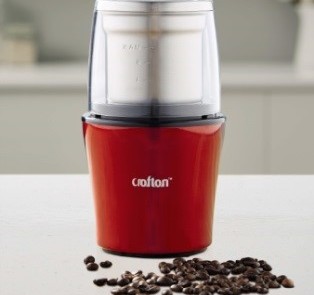 Glasses (£2.99 – two pack), available in three tasteful designs.
This coffee or Spice Grinder (£12.99) is ideal for grinding nuts, spices or coffee. Again, the colour options are great for a coordinated kitchen as it's available
in red, gunmeatal, pearl and stainless steel.
Aldi's Soup Maker (£49.99) really appeals to me with the colder days here. It boasts a 1.7 litre capacity with settings to avoid overflow or boiling a broth dry. Not only
does this ingenious appliance make soups – it steams eggs, blend  s and even makes fresh juice.
They've also got a Digital Halogen Oven (£29.99) that grills, bakes and roasts faster and more efficiently than conventional ovens. With an easy to use digital temperature control which reaches 250°C, this multipurpose machine allows you to prepare tasty homemade dinners and roasts for your friends and family in just a fraction of the time.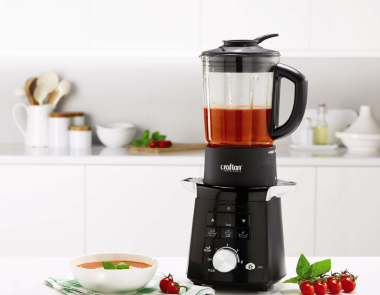 Now this is a bargain – Aldi's Large Slow Cooker (£16.99). Designed with anti-slip feet and an adjustable temperature gauge, this 6.5l slow cooker is available in stainless steel, metallic red and metallic gunmetal and comes complete with a recipe book to inspire and spark creativity in the kitchen.
The Aldi Specialbuys Kitchen range offers excellent value for money without compromising on quality. In stores on 22nd October, but you'd best be quick as once they're gone, they're gone. 
Kitchen Range in store 22nd October and available while stocks last, here's what else they have:
| | |
| --- | --- |
| Description | Price |
| Espresso Maker | £59.99 |
| Soup Maker | £49.99 |
| Halogen Oven | £29.99 |
| Kettle & Toaster Twin Pack | £29.99 |
| Led Strip Lights | £29.99 |
| Oxo Softworks Pop Containers | £29.99 |
| Salter Sweetie Scale | £29.99 |
| Deep Fat Fryer | £24.99 |
| Milk Heater/Frother | £19.99 |
| 42l Moda Touch Bin | £17.99 |
| Slow Cooker | £16.99 |
| Ceramic Coated Frying Pan | £14.99 |
| Sandwich Toaster | £14.99 |
| Large Marble Effect Pans | £12.99 |
| Coffee/Spice Grinder | £12.99 |
| Self Standing Utensils | £9.99 |
| Small Marble Effect Pans | £8.99 |
| Ceramic Coated Cake Pan | £7.99 |
| Mixing Bowls | £6.99 |
| Premium Icing Accessories | £6.99 |
| Twin Pack Utility Mats | £4.99 |
| 3d Cookie Cutters | £2.99 |
| Coffee Glasses | £2.99 |
| Traditional Tea Towels, 3 Pack | £2.79 |