Nabru's self assembly sofas – bargain and fit into small spaces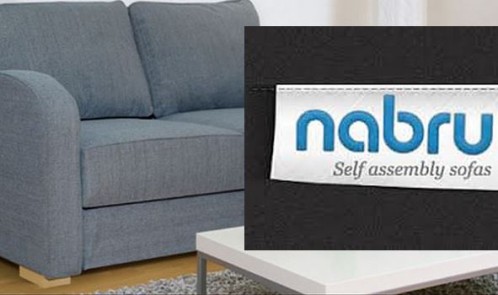 A 29 inch door frame is unfortunately not wide enough for today's big fat sofas, so I've been trying to work out how to replace the two rather dated burgandy shenille sofas that sit proudly in my refurbishment project house.
I have looked at re-upolstery, but even for two small sofas, firms are quoting over a grand; I have looked at sofa beds and futons, but they don't really project the look I want – I would like to maximise rental income, and futons won't do that for the owners.
We have thought about removing a window to get the sofas through, but the timing of delivery would have to be really precise and we'd have to pay for the removal and return of the window. I have found some really nice sofa beds on eBay without arms, and they should be easier to get through the door as can be laid out flat, but the reviews they get are really not good. So they don't seem to be something that would last, though at £69, the price is good to make somewhere look nice if you don't care as much about longevity.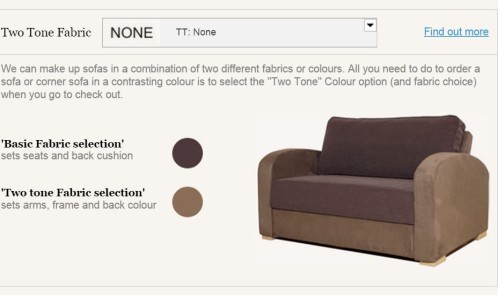 Anyway, so you can see that I have been searching high and low. And now I have found Nabru – they sell self assembly sofas – my prayers have been answered. BTW, they've been going for 10 years and their name means urban backwards.
Nabru manufactures and retails its very own line of sofas and sofa beds sold principally via the Internet. This strategy, combined with their low overheads and focus on design allows them to supply unique sofas at highly competitive prices. As their sofas are flat packed, they always fit, so my 29 inch door isn't a challenge.
They also offer you the opportunity to design your own sofa, and as they build their sofas at their premises, they say that I can have my sofas in two days. It just gets better.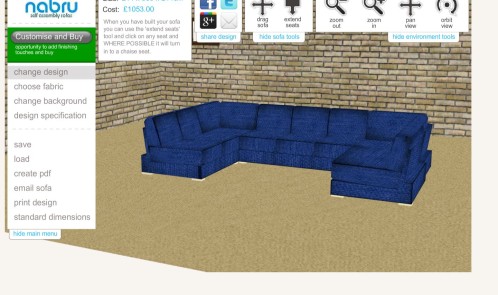 I am plumping for a couple of two seaters, but you can actually design your own sofa and I had a little play and came up with this.
You can also have two toned sofas and they provide free fabric swatches, so you can choose material before ordering your sofa. There's also a video on their site showing how easy it is to build the sofas, and even offer a delivery and build service.
I've checked out their Trustpilot reviews and they seem to be providing a pretty darned good service.
Anyway, I had to share as I am so excited about this find, and I hope this post saves you the hassle of taking out windows or not having a gorgeous sofa because you have a small door or live in a flat with windy tiny stairs.