Lowest cost LED light bulbs from Wickes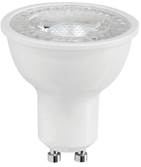 This may seem like an odd post, but I am always astonished at the price of light bulbs. I refurbished a house earlier this year and bought some from the market, though Aldi had a Specialbuy where they were cheaper at that same time….anyway, light bulbs cost a bloomin' fortune.
So when I saw this Wickes offer I just had to share. Wickes has launched 30 new, own-brand LED and halogen light bulbs – with prices starting from just £1.99 for the 5W LED GU10. Wickes' new range is an affordable bulb at one of the lowest prices available in the UK compared to B&Q, Homebase, Screwfix, Argos, Ikea and Amazon.
So why LED? Well LED light bulbs use less energy and last longer than traditional halogen bulbs, cut energy wastage by three quarters, and every bulb you buy will help you save £9 on electricity bills over its lifetime (per bulb if you buy 20). Buying 20 isn't that hard as most of our rooms have 10 minimum!
The Wickes 5W LED GU10 bulb was available from 23rd September 2015 for £2.99 for a single, £2.49 each when you buy six, and £1.99 each when you buy 20.
For more information, visit your local store or www.wickes.co.uk