Lining tab top black out curtains quickly and cheaply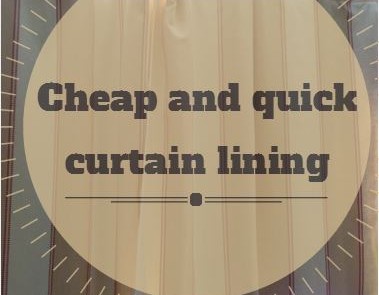 My tab top curtains were annoying with the sun streaming in early morning. The curtains weren't lined so I needed a solution to reduce the amount of light coming in.
As they aren't normal hook and eye curtains, I couldn't buy those useful linings that just hook easily onto the curtain rail.
I wanted to save time and money, so skipped the unstittched black out lining, that you can buy by the meter. Instead I:
1. Measured my existing curtains
2. Bought some pre-hemmed blackout linings to fit normal curtains
3. Pinned the linings to the curtains, ensuring that any access fabric was at the tab top end of the curtain
4. Sewed the linings on following the existing stitching lines at the top of the curtains
5. Cut off any extra fabric
6. Hung up my curtains
The whole process took me less than an hour, but I do have a sewing machine – seriously one of life's must haves IMHO. You can hand stitch too, as you can hide any bad sewing by following any existing stitching lines…it just takes more time.
The cost of four linings (for two windows) including postage from a shop called thebeddingstore on eBay was £17.93. The delivery was super quick in two days.
I now have one dark room in the summer for a better night's sleep and all for less than £20.
Here's how I did it in pictures: