Kit out your kitchen with Aldi's latest range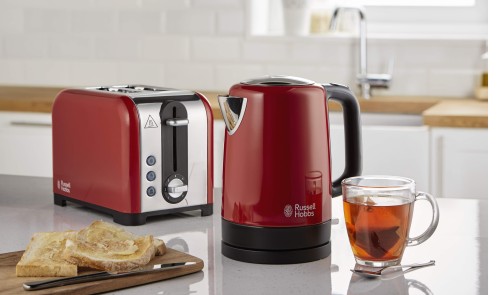 From electric slicers to frying pans, Aldi's new kitchen range, including Russell Hobbs devices,  is sure to have something for everyone, whether you're a budding chef  or a first-time cook looking to improve your skills. Available in store and some of the stuff is also online from 5th May, while stocks last.
My favourite items must be the Russell Hobbs kit as you can buy them singly or as a set and they look really funky together. Coffee lovers can wake up to a freshly brewed barista-style coffee with this Russell Hobbs Grind & Brew Coffee Machine (£69.99), featuring a digital programmable control which lets users set what time of day their coffee brews. The permanent filter makes for an easy clean as well, with no paper filters required. This is a great price, as it's around £20 more at Aldi's nearest price rival online and that's with a £10 saving!
With hot water at the touch of a button, the Express Hot Water Dispenser (£22.99) can provide a quick and easy hot drink fix, with an illuminated water tank and removable drip tray to avoid any spillages.
Cooks who like their kitchen gadgets colour co-ordinated can also buy the Russell Hobbs Digital Microwave (£44.99), available in black, red and cream for a stylish, modern look.  A matching kettle and toaster are also available.
Gadget enthusiasts will love the Electric Multi-Slicer and Sorbet Maker (£24.99). It offers a choice of five creative cutting shapes,  and the Sorbet Maker attachment will turn frozen fruits into cool, refreshing snacks to satisfy those ice-cream cravings.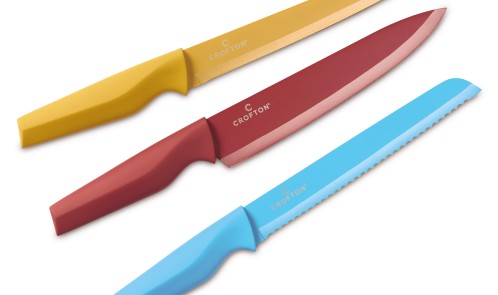 Shoppers can fry up a feast with Aldi's Professional Style Frying Pan (£12.99), which comes with a non-stick coating and even heat distribution to cook food quickly and easily. The non-stick coating can also be kept safe with Aldi's range of Colourful Kitchen Utensils (£2.49 each), which includes a whisk, spatula and slotted spoon, all made from premium silicon for scratch-proof results.
Slippery slicing will be a thing of the past with the Stay Put Chopping Boards (£6.99), which feature silicone corners to prevent any slips whilst chefs are perfecting their knife skills. The bamboo finish  keeps the kitchen looking modern and sleek and also matches the lids of these stylish Stackable Storage Canisters (£5.99 each), crafted from 'new bone' china.
Make use of your chopping board with Aldi's colourful 3 Piece Knife Set (£7.99), which comes with protective knife covers.
Also available is a range of essentials, from Salt & Pepper Mills (£7.99) to Water Filter Jug/Cartridges (£12.99), so Aldi can keep every kitchen kitted out and ready for cooks to get creative.
Whether you're cooking a feast or a simple family meal, Aldi has everything you need all under one roof and online for the best prices this May.
Aldi's Specialbuys  is available in stores nationwide and online at www.aldi.co.uk  from 5th May and, as with all Specialbuys, once it's gone it's gone!
Full price list here:
| | |
| --- | --- |
| Product description | Price |
| Russell Hobbs Grind & Brew Coffee Machine | £69.99 |
| Russell Hobbs Digital Microwave | £44.99 |
| Single Induction Hob | £29.99 |
| Electric Multi-Slicer and Sorbet Maker | £24.99 |
| Express Hot Water Dispenser | £22.99 |
| 3 Piece Ceramic Coated Pan Set | £19.99 |
| Russell Hobbs Canterbury Kettle | £14.99 |
| Russell Hobbs Canterbury Toaster | £14.99 |
| Professional Style Frying Pan | £12.99 |
| Water Filter Jug/Cartridges | £12.99 |
| 3 Piece Knife Set | £7.99 |
| Salt & Pepper Mills | £7.99 |
| Plastic Bowl Set including Colander | £6.99 |
| 20cm Ceramic Coated Frying Pan | £6.99 |
| Stay Put Chopping Boards | £6.99 |
| Stackable Storage Canisters | £5.99 |
| Clip Lid Storage Containers | £3.99 |
| Terry Tea Towels, 5 Pack | £3.49 |
| Colourful Kitchen Utensils | £2.49 |
| Colourful Kitchen Gadgets | £1.99 |