Home security on a budget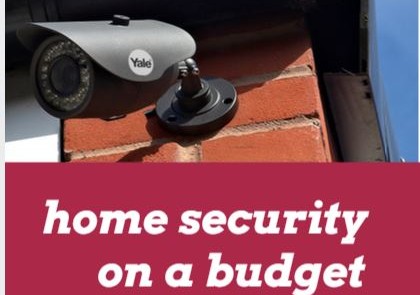 A neighbour was recently burgled and a friend has has their car stolen off his drive, so security has been top of my mind, and I've been looking for ways to up my home security.
Firstly invest in decent locks for both windows and doors. Then, I have been thinking lights, camera, action, so plenty of lighting to reveal any would be burglars, some sort of recording device and anything to deter a criminal in the first place. Anyway, here is my list of security ideas on a budget:
1. CCTV
I started off thinking about a CCTV camera and like the look of this D-Link camera at PC World for £169.99. I have a £20 off voucher for a customer complaint, but it's still pricey, so I have considered fake CCTV cameras. Check out this dome one from Poundland.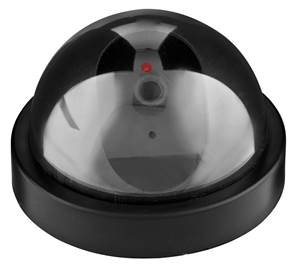 The Dummy Security Camera is part of Poundland's new Tommy Walsh range of DIY products, which launched in stores on the 27th April, providing affordable DIY products at home. The camera is battery operated and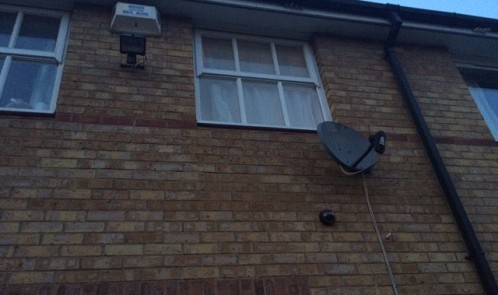 shows a red light which mimics the look of a real security camera, thereby convincing people that you have a security system for just £1.You have to put batteries in, so I gave this to a neighbour and we left the batteries out. Here it is on the wall, but we have moved it to the right so the Sky dish cables can be mistaken from far away for the CCTV camera cables. Remember to keep your receipt as quality will not be as good as more expensive fakes.
2. Signs and stickers
Along with the fake camera, we bought 99p CCTV in operation sign from eBay. We figure that if you saw this vs another house without these, as a burglar you'd go for the other house….why risk it?
Like my 99p CCTV in operation sign, there are also other signs like Mind the Dog…or if you want to be a little tongue in cheek and keep any criminal guessing, how about this £2.99 Never Mind the Dog Beware its Owner sign from PetsatHome.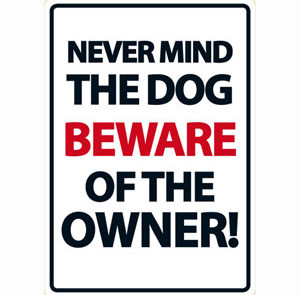 3. Lighting
Lighting is super important. We have timer switches like these ones from Screwfix for when we are away. For £7.99, this 7 day programmable timer is good value for money, easy-to-program to any time of day or night. There is no battery to fit or replace, just plug into a mains socket.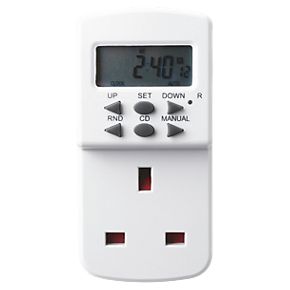 O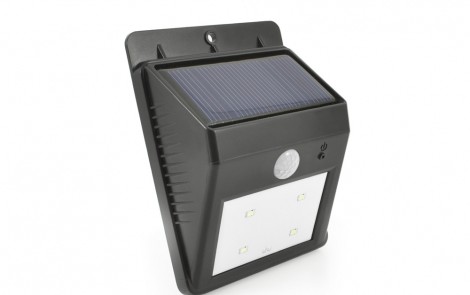 utside lighting is also critical. I prefer solar lighting, but don't recommend buying it from Amazon, instead places like Maplin have good quality solar lighting as does a company called Solarcentre. You can get larger solar sensor lights and also smaller lights that guide you to your door after dark using only the power of the sun. The ECO Wedge Solar Motion Welcome Light's (£17.99) 4 natural white SMD bulbs illuminate as soon as motion is detected and turn off automatically after motion stops. It takes up to three days to charge itself but the light is strong and bright.
4. Window films
Hiding your goodies can also prevent would be thieves from targeting you. Frosted windows are an option, but window film is also something I am using to hide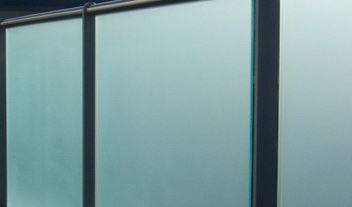 the lawnmower and BBQ in my shed. I ordered 44 x 60 cm film for two windows. It arrived within a couple of days with simple installation instructions. they even provided a scraper to help push out bubbles. The film is available in plenty of designs, you can use on any window where you don't want people to look in. For the size of my windows, it cost: £11 x 2, but there is a minimum order value of £30 for the supplier I chose. Of course, this is still cheaper than buying frosted glass!
5. Alarms
If you don't have the few hundred pounds for a house alarm, dummy alarms are also available. Check out this Yale dummy that costs a fraction of the price of the actual system. A trusted name in security is Yale, so this stand-alone real alarm in the picture is ideal for garages, conservatories and outbuildings. It protects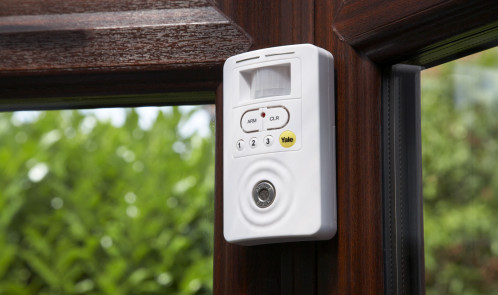 high value gardening tools or prized possessions in sheds, garages and outbuildings. The Stand Alone Alarms can be placed freestanding on a shelf or fixed to a wall, and will alert you if an intruder breaks in. Each alarm can be accessorised with a remote key fob, so you can easily arm and disarm your system from a distance. (RRP 25.99)
6. Neighbourhood Watch
Depending on your neighbours, you could also set up a Neighbourhood Watch scheme. They always say that there is safety in numbers and it doesn't cost you anything apart from your time.
7. Smart home security monitoring
Wouldn't it be great if you could watch your home while you're away, well with the smart home revolution, you can. The Piper nv has just launched in the UK, it is an all-in-one home security, video monitoring and home automation device that lets you stay connected to your home wherever you are. It is accessible through the Piper app, you can view a live HD stream of your home and it also includes a clever motion and sound detector so it can alert you when something out of the ordinary happens. The new version includes 180-degree night vision, the widest field of view on the market and advanced camera resolution – for around £229.99 on Amazon. Available with a range of 'Z-Wave' home automation accessories that enable you to control lights and appliances remotely, either scheduling them to go off at a set time or based on environmental factors such as light levels changing, or when you open your front door. It does seem pricey, but it is simple to use, easy to set up and there are no monthly fees.
8. Portable door lock
A final thought is when you are maybe in a new home or away, especially with children, you want to sleep safely. This product is great for hotel rooms or when in shared digs. The Easy Lock deadlocks your door against any intruder. We tried it at home and even with plenty of pushing, we couldn't open the door. It is lightweight, comes in different colours, has a nice carrying pouch, is so easy-to-install and super strong.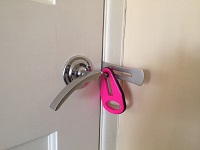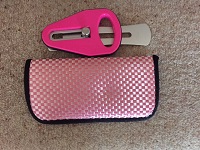 You can open the door a little so that you can receive papers. It's now available for £19.95.
And if you buy security products from Maplins, save up to £110 on home security & solutions with Vouchercodespro. It has some vouchers valid until 24th February 2016.
Anyway, I hope I've given you some food for thought…keep safe.