Garden table upcycling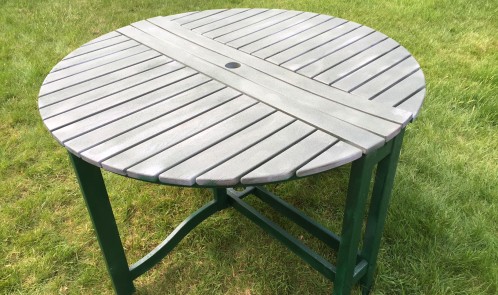 The cost of a decent sized folding garden table is not cheap. We bought ours from Ikea around 12 years ago. They don't sell the same thing anymore, but a simliar size in white, is £110 and it doesn't even fold.
The table is still in good condition underneath, but looks bad. So I decided to try out my creative skills and upcycle my existing table, and here's my experience in images. The whole thing cost me my time – can't put a price on that, I am worth far too much; Rust-Oleum surface primer, Rust-Oleum Textured finish in deep forest and Rust-Universal Gloss Spray Paint in Racing Green – totalling – £26.75 (if you do it right first time).
I am super impatient, so the spray paint appealed. Some of my tips include, prepare your table properly, practice even strokes and don't overspray in one place.
Here's the journey. I cleaned, sanded and primed my table, put racing green on the legs and textured deep forest on the top. I sprayed the textured paint too close so it went a bit blobby and didn't look good, so had to let it dry, resand and get another can of the textured paint, which costs £8.75!  I am super pleased with the result as for just over £30, I have a funky and new looking table.