Free gardening advice app launches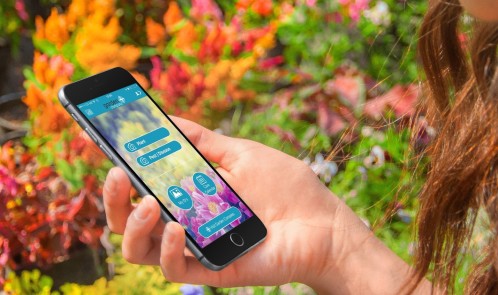 These days we have everything at our disposal at the touch of a button. But what about for helping our green thumbs?  Well, let's introduce Garden Compass, a new horticultural advice app. It is inspiring a gardening digital revolution having smashed through the 25,000 download barrier in the first three months of 2016 alone.
Why is it a handy app for gardens enthusiasts and beginners alike? The free app is introducing a new generation to gardening through its simplicity and easy-to-follow expert advice, with the normally gardening-reticent 25 to 35 year-old bracket proving to be the most popular users of the app.
Garden Compass offers a complete horticultural resource to give people all the tools they need to easily create and manage their outdoor spaces, be it a window box, balcony, small urban garden or a more expansive area. The app is tailored to audiences of all skill levels, from keen gardeners to complete novices who have some outdoor space that needs bringing to life.
It is the only app of its kind to have a global network of over 50 actual horticultural and landscape experts from seven continents on hand to pass on their knowledge and guidance. The experts include published authors, nursery retailers and growers, horticultural researchers and certified Master Gardeners.
Garden Compass app users are invited to send photos of their plants to the experts, who will quickly identify the plants, giving users all the information they need to care for and nurture them. App users have free (which we like) 'credits' to send up to three plant photos per month when they sign up and then one free credit each month thereafter. They can also ask the experts specific questions such as, why a plant or shrub may be dying or whether certain species will be suitable for their garden, flowerbeds or window boxes.
App users can upgrade to a Premium membership for just £4 a month or an annual £36 subscription, which gives users unlimited questions and photo identifications, along with access to a wealth of additional expert content and advice.
Premium members are also able to 'build' their garden within the app in the 'My Garden' feature. This triggers the creation of a 'Care Calendar', which automatically provides users with useful information on what they should be doing with their plants from one month to the next. If the Care Calendar does not answer the app user's question, an expert will be available to chat live to provide the required information.
The app is also geo-mapped so all guidance is specifically tailored to the user's area, climate and soil type.
The app, which is now available on Android as well as iOS devices, is complemented by the Garden Compass website (www.gardencompass.com), which hosts a range of informative, timely and free garden advice.