Aldi's new bedroom, bathroom and home ranges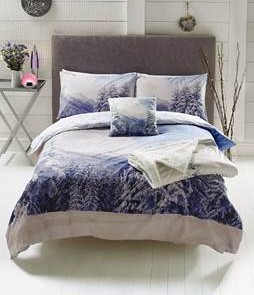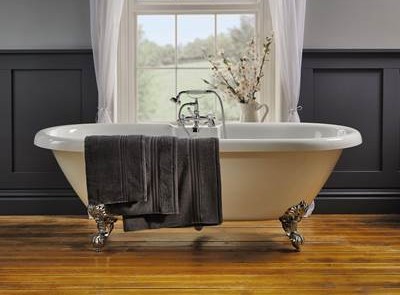 So if you were in Aldi today, you should have seen the first of their new ranges of bedroom, bathroom and home accessories. Bathroom items were in store today.
They have Egyptian Cotton Bath Towels (£4.99). I tried out a couple and the value is good, especially with the larger towels. While they are 100% cotton, they are more functional than luxurious, as they aren't super fluffy, but frankly those towels take longer to dry in my opinion. The Egyptian Cotton Bath Sheet is £6.99 and the Hand Towel is £2.99.  I got the blue, but saw cream in the store too and there is a range of colours.
The bedroom range comes in next Thursday and I got a sneak peak of the photographic duvet set (from £9.99), an on-trend winter-themed bedding set, available for single, double and king sized beds, that come in a range of designs including New York, penguins, winter scene and deers. The quality is good for the price and if you get fed up of the photograph, there is a nice plain design on the other side.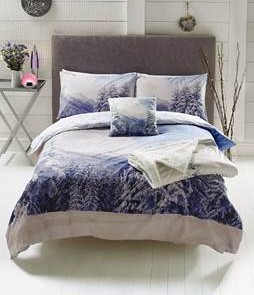 And if you like that sort of thing, Aldi has matching Photo Print Cushions (£3.99). The winter-themed cushions are double sided, perfect for the home decorator who loves to mix things up! Add a rustic touch to your trendy boudoir by adding Aldi's Twig Lights (£9.99) to the picture.
Aldi's Heated Throw (£29.99) got me all excited. The soft-touch blanket is made with 100% microfleece fabric and available in four great colours with nine heat settings.
On 8 October, the home décor range also comes into store. Personalise or enhance your space using on-trend vintage touches with Aldi's Metal Wall Art (£2.99). Inject some colour into any room with the 120 x 170cm Contemporary Rug (£29.99) which comes in three designs.
Accommodate your friends and family with ease this season with Aldi's range of inflatable furniture. This queen-sized Deluxe Air Bed with Built-in Pump (£39.99) for fast inflation offers maximum comfort and space, and deflates completely for compact storage or travel.
In stores on 4th and 8th October, Aldi Specialbuys Bedroom, Bathroom and Home ranges offer excellent value for money without compromising on quality, but be quick, as once they're gone, they're gone!
The Bedroom range is on sale on 08.10.15 and available while stocks last
| | | | |
| --- | --- | --- | --- |
| | | Heated Throw | £29.99 |
| | | Sunrise Alarm Clock | £19.99 |
| | | King Quilted Bedspread | £19.99 |
| | | All Seasons Duvet – King | £17.99 |
| | | All Seasons Duvet – Double | £15.99 |
| | | Double Quilted Bedspread | £14.99 |
| | | King Photographic Duvet Set | £14.99 |
| | | Photo Print Sherpa Fleece | £14.99 |
| | | Double Photographic Duvet Set | £12.99 |
| | | All Seasons Duvet – Single | £10.99 |
| | | King Fleece Mattress Protector | £9.99 |
| | | Single Photographic Duvet Set | £9.99 |
| | | Twig Lights | £9.99 |
| | | Lava / Glitter Lamp | £8.99 |
| | | Double Fleece Mattress Protector | £7.99 |
| | | Winter Wall Clock | £4.99 |
| | | Photo Print Cushion | £3.99 |
| | | Ladies Towelling Slippers | £2.99 |
| | | Sleep Pillow Pair | £2.79 |
The Bathroom range is on sale on 04.10.15 and available while stocks last
| | | | |
| --- | --- | --- | --- |
| | | Family Toilet Seat | £19.99 |
| | | Towel Warmer | £19.99 |
| | | Coloured Electronic Scales | £9.99 |
| | | Rechargeable Toothbrush | £9.99 |
| | | Egyptian Cotton Bath Sheet | £6.99 |
| | | Cotton Bath Mat | £4.99 |
| | | Egyptian Cotton Bath Towel | £4.99 |
| | | Kids Suction Bath Mat | £3.99 |
| | | Rechargeable Toothbrush Heads | £3.99 |
| | | Shower Accessories | £3.99 |
| | | Egyptian Cotton Hand Towel | £2.99 |
| | | Floating Sealife Bathroom Accessories | £2.49 |
The Home range is on sale on 08.10.15 and available while stocks last
| | | | |
| --- | --- | --- | --- |
| | | Dehumidifier | £119.99 |
| | | Flame Effect Heater | £59.99 |
| | | Deluxe Air Bed with Built-in Pump | £39.99 |
| | | Inflatable Pull-Out Sofa | £34.99 |
| | | DAB & FM Bluetooth Radio | £29.99 |
| | | Contemporary Rug | £29.99 |
| | | Kids Deluxe Air Bed with Built-in Pump | £19.99 |
| | | Convector Heater | £14.99 |
| | | Door Handles | £7.99 |
| | | Super Soft Throw | £7.99 |
| | | Chrome Shoe Tidy | £5.99 |
| | | Decorative Cushion | £5.99 |
| | | Large Cushion | £5.99 |
| | | Washable Runner | £5.99 |
| | | Switches/Sockets – Double | £4.99 |
| | | Switches/Sockets – Double | £4.99 |
| | | LED Bulb/Candle/Mini Bulb Dimmable | £3.99 |
| | | LED Bulb/Candle/Mini Bulb Non Dimmable | £3.99 |
| | | LED Reflector Non-Dimmable | £3.99 |
| | | Switches/Sockets – Single | £3.99 |
| | | Switches/Sockets – Single | £3.99 |
| | | Metal Wall Art | £2.99 |
| | | Washable Mat | £2.79 |