ALDI's Chimenea and BBQ Specialbuys – al fresco dining and entertaining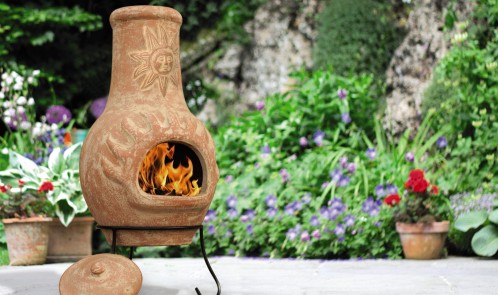 Aldi's bringing out its BBQ Specialbuys so that grilling and eating al fresco can look good, cook good and not cost the earth.
If you want to stay warm while you're having a BBQ, Aldi is stocking an attractive Chimenea (£29.99) in store on 1 May, as part of its Specialbuys.
Chimenea
Originating in Mexico for cooking and keeping people warm, chimeneas have grown in popularity in the UK. You can cook on a chimenea, but small quantities, so best to have this for warmth and a BBQ for cooking for friends and family.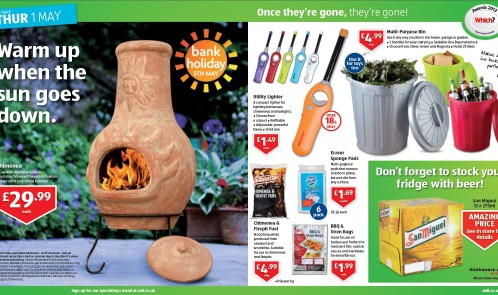 As well as looking good, the Aldi Chimenea  is a definite bargain as other chimeneas come in at £50+. I popped in to measure the chimenea, and it was over two foot high by one foot at its widest. This one has the following features:
·         Clay with a terracotta finish
·         Suitable for use with wood or charcoal
·         Steel stand and rain lid included
In terms of fuel, Aldi is also doing Chimenea & Firepit Fuel at £4.99 for 10 kg, which is:
·         Wood briquettes produced from sawdust and woodchip.
·         Suitable for use in chimeneas and firepits.
Also in store from 22 May is a Dual Burner Gas Wagon BBQ (£49.99) and Kettle BBQ (£17.99), Disposable Instant BBQ (£1.79), Firelighters (£1.59), a 3 Piece BBQ Tool Set (£3.99) and Grill Brush (£1.99).
Alternatives
If you missed these products in store, here are some alternatives:
Amazon for La Hacienda Small Yellow Clay Chiminea  at £43.99
Argos for Square Smoker Charcoal BBQ at £24.99
Go Outdoors for three piece BBQ tool set at £2.49