Aldi launches a showstopper range for budding bakers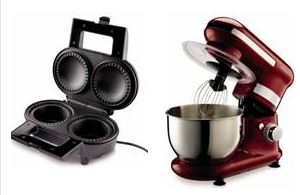 I love cakes and baking, so was thrilled to hear that Aldi's baking range is back in store from Sunday and online on 14th August and is already online, while stocks last.
Basically, some of their products rival Lakeland and are much cheaper…yay.
They have some fancy gear if you bake regularly and want to emulate the Bake Off bakers. The Classic Stand Mixer (£69.99) includes a six speed rotary control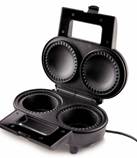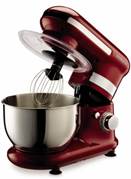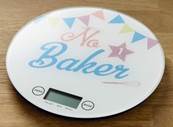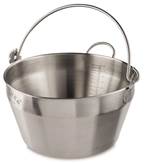 with a balloon whisk, beater and dough hook. In four colours from metallic red and pearlescent duck egg blue, it's sure to add a touch of style to any kitchen.
Kitchen gadget users can also add Aldi's Pie Maker/Waffle Maker (£19.99) to their collection – the non-stick cooking surfaces and base and lid cutters make homemade treats even easier to whip up. You can make two deep filled pies in the pie maker…no mesh no fuss, just pastry and filling in, pastry on top and cook. It's like one of the sandwich toasters we all had as kids, and many still do.
Jam and chutney lovers can have a go at making their very own with Aldi's Preserving Starter Kit (£14.99) and Maslin Pan (£19.99). The Preserving Starter Kit comes complete with a thermometer, jar tongs and jam jar covers and more, while the Maslin Pan has an 8 litre capacity so there'll never be a shortage of preserves in the house.
Can't afford Salter? I saved My Sainsbury's vouchers to get mine. Anyway, with a choice of a flat, jug or bowl scales, Aldi's Digital Kitchen Scales (£6.99) go the extra mile by measuring both solids and liquids, so it's easier to get the correct quantities sorted, whether it's flour or water.
Bake Off fans can get inspired with Aldi's selection of Mary Berry Cookbooks (£3.49) which cover a number of different dishes from the baking queen herself, including puddings and classic kitchen favourites.
My favourite accessory is the mixing bowl, for £6.99 in beautiful colours, it's got such a traditional feel at a great price.
The Bake Off range also has an array of home baking essentials for creating, displaying and storing those show stopping creations, including a Specialist Pan Assortment (£7.99) with cake dividers and tiered pans to a 32cm  Cake Tin and Cake Plate Set (£14.99) with a choice of stylish designs made from galvanised steel.
Aldi's Specialbuys Bake Off range is available in stores nationwide from 14th August and to pre-order online at www.aldi.co.uk from 7th August but be quick, as with all Specialbuys, once it's gone it's gone!
Aldi's Bake Off range is in stores and online on 14th August and available while stocks last
| | |
| --- | --- |
| Description | Price |
| Classic Stand Mixer | £69.99 |
| Maslin Pan | £19.99 |
| Pie Maker/Waffle Maker | £19.99 |
| Cake Tin And Cake Plate Set | £14.99 |
| Preserving Starter Kit | £14.99 |
| Bamboo Storage Canisters | £9.99 |
| Specialist Cake Pan Assortment | £7.99 |
| Kitchen Scales | £6.99 |
| Enamel Pie Dishes | £6.99 |
| Mixing Bowls | £6.99 |
| Large Ceramic Baking Pans | £6.99 |
| Cooling Rack & Oven Shelf | £5.99 |
| Cake Container | £4.99 |
| Small Ceramic Baking Pans | £3.99 |
| Mary Berry Cookbooks | £3.49 |
| Preserving Jars | £2.99 |
| Show Stopper Baking Utensils | £1.99 |