Affordable home appliances – new ElectrIQ range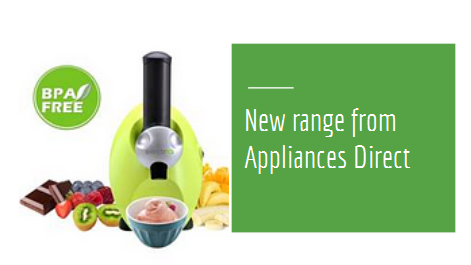 Kitting out the kitchen doesn't have to cost the earth. There's plenty of high street alternatives if you shop around – I have just come across Appliances Direct who have 50% off all juicers as well as fantastic long term savings on an array of appliances including the new ElectrIQ range.
ElectrIQ HSL600 Horizontal Slow Juicer – £64.97 (Was: £129.97, saving £65.00)
The new Horizontal Slow Juicer ensures you get the most from your fruit and vegetables and cold presses fruits, vegetables, grasses and leafy greens as well as creating delicious nut milks. The low speed auger masticating technology extracts the healthiest, most nutritious juice is also quiet and energy efficient, whilst being easy to clean and store away.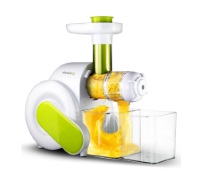 Not only is it a steal at £64.97, it is £194.03 less than the comparative Omega 8004 Juicer and Nutrition Centre.
With the additional 6-in-1 accessories pack turn the appliance into much more than just a juicer. Extra attachments allow you to slice fruits and vegetables, grate nuts, and mince dried fruits transform the juicer into a multi-purpose appliance. £19.97 (Was: £29.98, saving £10.01)
ElectrIQ EDFD04 Digital Food Dehydrator with Temperature Control and Timer
Dehydrating food is the latest trend in healthy cooking – giving you all the benefits of raw food, but with the delicious texture of cooked. This dehydrator, allows you to make dried fruit and healthy veg crisps, without any additives or unhealthy preservatives like salt, fat and sugar.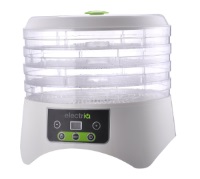 Buying the ElectrIQ model will save you £20.01 over the Lakeland alternative and also comes with a digital LED display for temperature, time control and 4 temperature settings.
ElectrIQ HOV17 17 Litre Premium Halogen Oven – £29.98 (Was: £79.99, saving £50.01)
Cook your meals up to five times faster than a conventional oven with the Premium Halogen Oven – using much less energy, the halogen oven is eight times cheaper to cook with.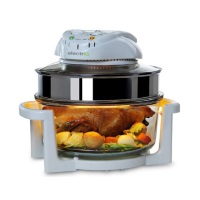 Roast, boil, fry or sauté almost any type of food in a much healthier way. Cooking food in its own juices helps retain more nutrients and flavours than a cooking in a traditional oven does.
The oven comes with full accessories pack, including an extender, which increases the oven's capacity enabling you to cook a two-course Sunday roast in one go!
What's more, the halogen oven is self-cleaning. So after cooking, simply add hot water and detergent, set it to wash, and leave it to run its course.
The ElectrIQ Halogen Oven is £10.01 cheaper than the comparative ASDA Halogen Oven.
ElectrIQ ICMFD01 Frozen Fruit Dessert Maker – £29.98 (Was: £59.98, saving £30.00)
Get kids cooking with the frozen fruit dessert maker which transforms frozen fruit pieces into tasty soft-serve ice cream. Make frozen sorbets or indulgent ice creams adding your own toppings to suit.
Just £29.98, the dessert maker is £20.01 less than the comparative Yonanas Frozen Dessert Maker.
ElectrIQ SMFP06 Multi-Purpose Slicer and Chopper – £24.97 (Was: £49.99, saving £25.02)
Upgrade to a speedy slicer and chopper and cut food preparation time. The Slicer and Chopper allows you to reduce the time it takes to prepare fruit and vegetables as well as create crinkle cut, finely grated, and thinly sliced food pieces – shapes and sizes not easily created with knife skills alone.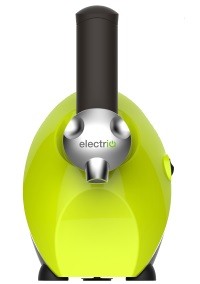 It also comes with six attachments including a grinder attachment which allows you to grate hard cheese, chocolate, and nuts in seconds.
The Slicer and Chopper is £24.97 and is £15.02 less than the comparative Tefal Fresh Express.
Appliances Direct sells a vast range of kitchen and household appliances, from air conditioners and dehumidifiers to TV and home entertainment systems. The full range of products can be found with all their details on the website, www.appliancesdirect.co.uk.