Add loads of value to your home – really easily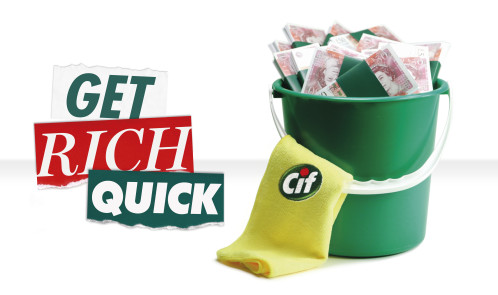 Lots of schemes promise easy ways to make money, and this really made me laugh. Basically, by using Cif to clean a London home, it actually gained a lot more value! Incredibly, the average value was 26% higher by cleaning the house.
Cif posted an online film highlighting the value of a beautifully clean home – increasing the house price by simply cleaning with Cif products. Watch here: https://www.youtube.com/watch?v=ga7QEnAbIfo
The idea was simple…a before and after experiment filmed over two days. Cif took an average London home and asked three independent real estate agents to give their honest appraisal of what the home was worth in its current state. The average value was £1,050,000.
A professional cleaning team then gave the whole house a Cif deep clean from top to bottom. Three further independent real estate agents provided their appraisal of what the home was worth.
With a deep Cif clean the team had added £280,000 to the value of the home as the agents valued the property at an average of £1,330,000.
Cif knows that you want your home to look its best; so they develop products that solve the problems you face, while caring for surfaces at the same time. Like the UK's bestselling multi-purpose cream cleaner, Cif Cream. Or the Cif Power & Shine sprays range – a powerful clean that's unbeatably streak-free, first time, every time.