Valentine's day gift ideas for under £10
With just under a month left till Valentine's day, I thought I'd do a short round up of gift ideas for under £10 for women, men and teenagers – hopefully they'll give a little inspiration to you.
Must admit, it's been a struggle finding gifts that don't cost a lot as Valentines encourages spending on your loved ones. Will add to the list as I discover new things. Enjoy and have a happy Valentines day.
Gifts for anyone
Add a voice message or music to any digital picture
Shuttersong allows you to add up to 15 seconds of voice, sound or music to any digital picture. Here are some examples where you can add music to a holiday image or spice up a wedding photo for your loved one. The app is very simple to use and allows you to edit existing pictures, or take new ones, and turn them into "Shuttersongs" – with music, voice or sound effects. A great way to add messages or songs to pictures that stir great memories, or even for teenagers to send their Valentine's messages to their crushes. And it's free!

Gifts for women
Pretty personalised notebooks from TheDogsDoodahs.com
As well as being a great place to buy a personalised funny Valentine's cards, TheDogsDoodahs.com also offers a range of personalised gifts. Their notebooks come in at under £10 (£8 plus £1.95 first class post), and within the range there are a couple of possibilities for wedding planners, if someone was wanting to pop the question as a Valentine's day surprise! You can choose from a range of designs or upload your own photo to create a personalised notebook for £8, plus £1.95 1st class postage at TheDogsDoodahs.com
Tender care blackcurrant protecting balm
What could be more fitting for Valentine's Day than something dubbed 'Tender care'? Oriflame's best-seller is packed with a unique blend of protective ingredients all chosen for their ability to help nourish, soothe and condition skin. This special blackcurrant-scented edition instantly restores softness to dry, sore or roughened elbows, hands and most crucially, lips. It's 4.95.
Love is in the Air hand cream
An indulging Oriflame hand cream with a romantic feminine fragrance that blends a beautiful floral scent with red fruits and warm musky notes while helping keep skin soft and moisturised. RRP £1.95.
Lovely set of face masks
I found these in Morrisons for £3 and they will give your loved ones skin a treat. They come in five different types and have a sweet package with a bow on it and could be given alone or as a part of a pamper pack.
   
Gifts for men
For the man who has everything – I promise to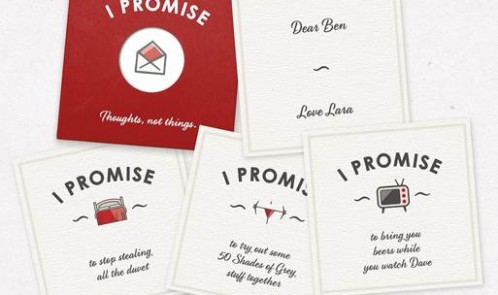 Women who are stuck for gifts for men who have everything can turn to: www.ipromise.toIn three easy steps, it's possible to personalise beautifully printed promises, delivered in a red or navy case – with pretty foil lettering. Each case contains a collection of three, five or ten promises that can be illustrated with a choice of stylish pictures. Whether it's little thoughts, more time spent together, new experiences or romantic gestures, anything can be wrapped up as a promise. These promises can be completely personal, with the buyer writing their own pledges on the IPromise website.
Alternatively, if you are seeking inspiration, choose from a wide range of pre-written promises. Prices start at £9.50 for three promises including delivery.
Buc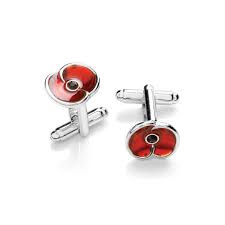 kley silver poppy enamel cufflinks
Simple and stylish, these poppy enamel cufflinks add a touch of sophistication whilst showing your support for the British Legion. They are plated with a silver tone and glazed with luxurious rich enamel. Come in a smart presentation box. Oh and all the poppy gifts will make you feel good too as 100% of profits go to the royal British legion. Was £12.99 and now they are £9.99.
Poppy debit cards wallet
This leather Oyster Card Holder is perfect for the busy commuter or man about town. Features the poppy symbol embossed on the front, with compartments for business cards, train tickets and an Oyster card. This is 9.8 x 7.1 x 0.6cm and costs £9.99.
Gifts for teenagers
Buckley Enamel Friendship Bracelet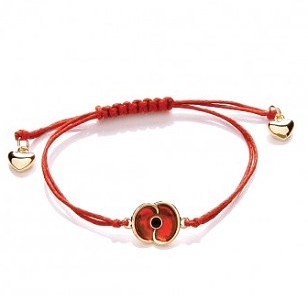 Really nice and sooo cool poppy gifts – it's the 100th centenary of 1914, so something really special here. Fashionable and fun, this Enamel Friendship Bracelet displays a poppy charm, which is glazed in silken enamel with a jet crystal in the centre. Also features two silver tone heart charms. Created exclusively for the Legion by leading British designers Buckley, it makes a wonderful gift to wear throughout the year. Was £9.99 now £7.99.
And of course, if you need more inspiration, don't forget your discount websites. The top ten most popular discount codes for Valentine's gifts on www.MyVoucherCodes.co.uk include ways to save money on gifts, experiences, jewellery, perfume, flowers and romantic breaks.