Is it possible to find a gorgeous engagment ring on a budget?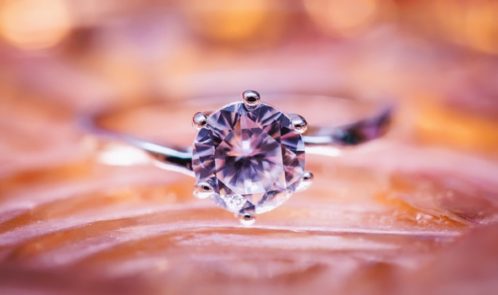 Finding the perfect engagement ring is no easy task. You've got to ask: Is the ring too big or too small? What stone should be on it? Would your partner like it? Then, to top it all off, engagement rings are expensive – especially when we've got the likes of Kim Kardashian's $8 million bling to contend with.
On average, the UK spends £573 on engagement rings but there is also the pressure of the traditional 'two month salary' rule that many people associate with the price of engagement rings. So, finding the perfect ring can be a stressful experience.
For many, the 'two month salary' rule is out of the question but, fear not, the perfect engagement ring can be found in your budget range. The below tips will help to make your partner, and your wallet, happy during this special time:
Ring Metal
The first image that comes to mind when someone mentions engagement rings is the traditional platinum diamond ring. However, platinum can be quite expensive so why not try another metal, like a white gold engagement ring? White gold is a cheaper alternative to platinum but it looks just as premium (Palladium is also an alternative belongs to the Platinum family and it has a proper hallmark).
Stone/Jewel
Not all engagement rings have to have be diamond encrusted. Why not opt for something a little different, such as a ruby or emerald ring? Going for a different stone adds colour to a ring and is a less expensive alternative to a diamond ring. Or, personalise your engagement ring by including a birthstone, which gives the ring a personalised touch for your partner.
Cut/Carat
If you insist on a diamond ring, they do say diamonds are forever after all, then check out the cut and carat. Instead of going for an excellent cut, why not go just below and opt for a very good cut? The difference between the two is not obvious and the price is much lower. Also, buying under 1 carat reduces the price considerably meaning that you still get a diamond ring and save money!
Try an auction house
Jewellers can be expensive so why not check out an online auction house? If you're looking for something different, there are a range of rare and affordable rings you can find on these sites. It's important to exercise vigilance when buying diamonds online. To ensure you're getting the real deal, sites like Catawiki hold weekly auctions of vintage engagement rings that have been estimated by professional auctioneers so you can trust that the price, and quality, is right!
Take a risk
Defy expectations and surprise your partner! If you know exactly what you want and don't mind ringing the doorbell of a side street diamond wholesaler, a cheaper alternative is to buy the diamond separately and have it set into a ring. You could save up to fifty percent taking this route and you can guarantee your ring will be like no other!
This is a guest post by: Deborah Mazza, Gemstone auctioneer at wedding ring specialists Catawiki .