No added sugar chocolate – Chocologic – gift idea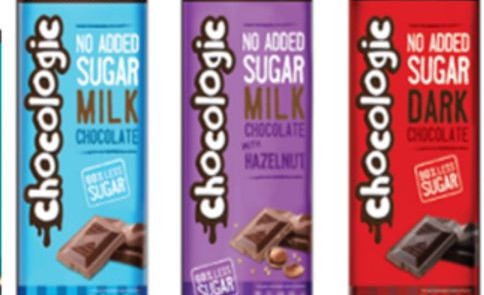 As part of my Christmas gift blog posts, I am picking out a few things that really catch my eye, and no added sugar chocolate that is affordable and tastes good, definitely got me interested, especially as I am two months into my no added sugar way of eating.
Tesco stocks Chocologic and for a sharing bar at £1 – £2 and other gift ideas, this is a product I have been waiting for…and I'll probably be gifting it to myself every week ;-0.
So what's the secret?  It uses a sweetener alternative – Steviol glycosides, more commonly known as Stevia,  a natural sweetener from the leaves of the plant species, Stevia rebaudiana. The extract is combined with cocoa to create bars, seashells and a selection box of dark, milk and white chocolate.
What's fab about Stevia is that it contains absolutely no calories or carbohydrates, and is great for diabetics too.
The main products are three sharing bars: milk, dark and milk/hazelnuts all in scrumptious Belgian chocolate, RRP: £1 – £2.
I tried these out with my 12 year old and Mr Bargain Hunter. They were neatly packed and looked just like "normal" chocolate, and we all agreed that the hazelnut one was the best, but even the dark chocolate was better than other dark chocolates, because it wasn't as bitter. We're big Cadburys fans in this house, so the milk just wasn't sweet enough, however, as I am cutting out added sugar chocolate, Chocologic seems to be a good option.
As well as the bars, the Chocologic Neapolitan Assortment contains individually wrapped pieces of Milk, White and Dark Chocolate, RRP: £2 – £3.50, while the Chocologic Belgian Seashells contains Milk and White Chocolate Seashells with Hazelnut Cream, each one designed with a marble look, RRP: £2 – £3.50.