Black Friday/Cyber Monday – Lucky Voice Karaoke kit deal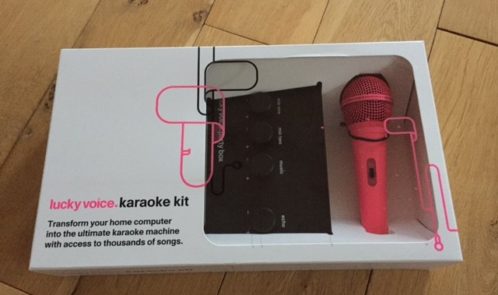 Couldn't resist sharing this one with you! Even though I'm tone deaf (apparently!) I love karaoke, though I don't fancy a big bulky box, so this Lucky Voice kit is the business.
Lucky Voice, the company behind the kit is ramping up the festive spirit this Black Friday, slashing the prices of an array of at-home Karaoke Kits by up to 33%.
The at-home Karaoke Kits – are perfect for getting the party started and remind me of when we first got Wii Dance…everyone was queuing up to have a go. The microphone comes in a host of fun colours (from hot pink to electric blue). I have the pink cos I am girly. They are usually priced at £50, going up to £60 for the gold version. This year however, Christmas is coming early for anyone that loves belting out a hit (or even just keeping the kids entertained), because they are ALL being discounted to just £40 – whatever the colour.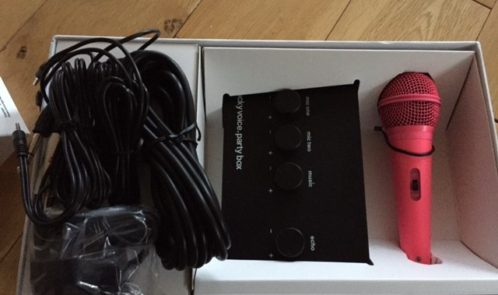 You can pick up the at-home kits everywhere from QVC and Amazon to Urban Outfitters, Selfridges, Toys R Us and Maplin. They're also easy to use (no midnight assembling for tired parents here), and don't take up stacks of space. All you need to do is simply connect the laptop and speakers to the kit, create an account and get singing.  Don't worry about the cables, it really is easy to set up.
You also don't need need expensive CDs or downloads, you just stream directly from Lucky Voice Online Karaoke (luckyvoicekaraoke.com) and pick from over 8,000 songs. Users can search for favourite artists and tunes, build playlists or simply click the 'I Feel Lucky' button and let Lucky Voice do the work.
As if that isn't enough seasonal cheer, Lucky Voice has also created the ultimate karaoke app for iPhone and iPad, allowing users to party like it's Christmas, wherever they are.  This is free to download from the app store for iPhone and iPad, and allows users to stream all their favourite songs instantly. With the kit you get two weeks free singing, then you can switch to £1.49/week subscription fee, you can cancel at anytime, so that's £1.49 per party I'd say!
What you get in your kit:
1 × light and chic microphone mixer
1 × metal-bodied dynamic microphone
1 × 5m microphone cable
1 × headphone to phono cable
2 × headphone to headphone cables
1 × instruction sheet
Plus a voucher code for a month of free singing!
If you want an extra mic, it's £20…so what are you waiting for?
See www.luckyvoicekaraoke.com for more information.

Disclosure