Bargain Mother's Day gift ideas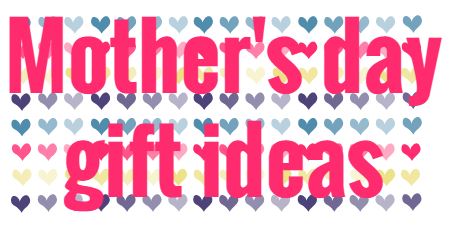 I love my mum, she's a little crazy but definitely makes me smile, and I hope that's how my kids feel about me. So it's that time of year to start thinking about nice things to get for your mum or the mother figure in your life. Here are some of my faves: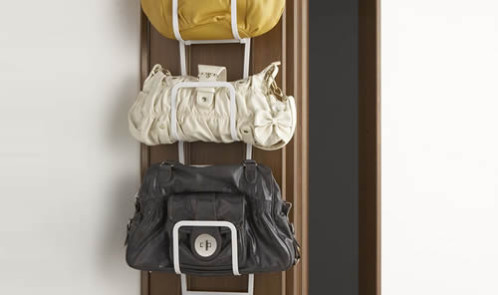 This neat modular handbag store comes complete with two different hanging hooks allowing for use inside the wardrobe or over a door and is the most effective handbag storage solution I've come across in many years. It's from A Place for Everything (I bought a gorgeous shoe cabinet from them that still gets admiration a few years later), so they sell some nice stuff. The bag storage is £18.
Artificial flowers for £1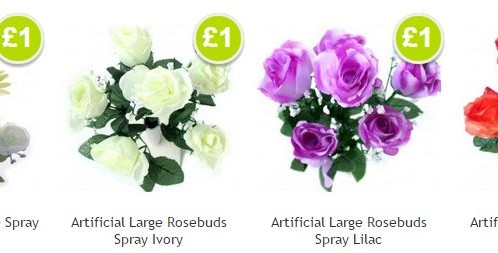 These are perfect maybe if the children want to get mum something but your budget is limited. They have 29 types and if you have other shopping to do, delivery is free from Poundshop.com for orders over £25.
 ODEON awards season gift pack
Five tickets to 2015's award nominated films for £24.99. ODEON's new Awards Season Gift Pack lets you check out the main contenders at a great price. See the films which have been nominated or already won the main awards in 2015. The Awards Season Gift Pack contains five tickets that can be used for any standard 2D showing of any film from ODEON's list of contenders until 2nd April 2015. Presented in a classic silver film canister and costing just £24.99 plus delivery the Awards Season Gift Pack makes a perfect gift for your film-loving mum and is a great way to experience the awards buzz and discover some seriously good cinema. The Full list of films: Boyhood, Gone Girl, Interstellar, Mr Turner, The Imitation Game, Unbroken, Exodus, The Theory of Everything, Birdman, Foxcatcher, Wild, Whiplash and Selma.
 Cutie teddy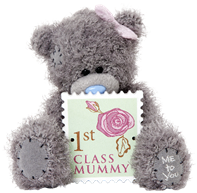 This adorable Tatty Teddy holding a stamp featuring the words '1st Class Mummy' is sure to put a smile on your mum's face this Mother's Day. It's £10.00 and available from Clintons.
 Victoria Green beauty bags
These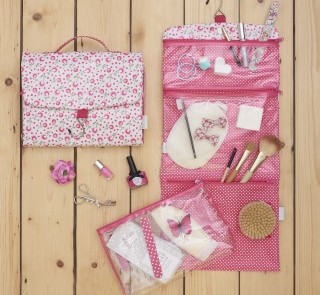 ba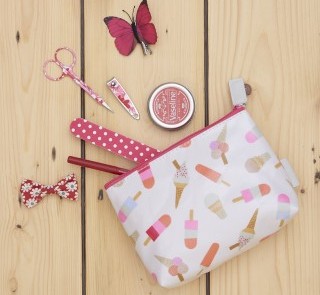 gs are perfect for the women who loves to be organised, with plenty of handy compartments and practical features to keep everything in place. All the bags made of coated cotton canvas, are fully lined with pretty polka dot trim and come in a range of sizes ideal for everything from everyday use to a long haul trip overseas.  The new collection is inspired by Victoria's childhood holidays and features 5 beautiful new prints – Brighton,Penryn, Whitehaven, Southwold and Padstow. Sizes and prices range from £5 for the Everyday Make Up Bag up to £18 for the roomy Carry All. All bags are available from Debenhams.
Nelsons Arnicare Arnica Bath & Massage balm

This is a unique dual purpose relaxing balm which creates a luxurious, lovely fragranced bath to help ease aches – it will leave your mum feeling like a goddess in no time! The invaluable natural properties of Arnica Montana will help to soothe and relax your mum after a tiring day, while Calendula, Evening Primrose and Sweet Almond Oils naturally hydrate and nourish the skin.  Slow down and unwind with the sweet Lavender and Grapefruit scents which will help to melt away tension and clarify the mind. Nelsons Arnicare Arnica Bath & Massage Balm costs £8.15 and is available from Boots.
Creightons and Squeeky Clean products make up awesome low cost gift baskets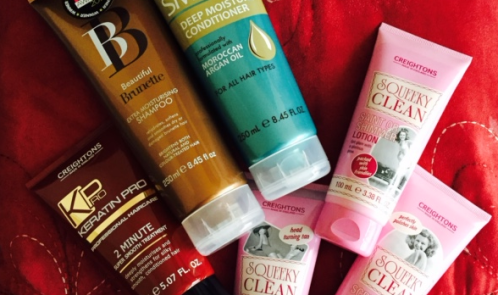 Is your mum a fan of Soap & Glory but you don't want to spend as much on your pretty pink treats? Well your mum may thank you quite a lot when you buy her some Squeeky Clean products that retail at £1, yes you read it right, £1 at Poundland. They have fun packaging and look great as a set – for £5 you can make such a cute little gift basket. I got the Glow Stopper Instant Tan, Scrubaholic Face Scrub, Body Lotion and Shower Detox.
Again if your budget is limited, but you want to give your mum a number of gifts, why not mix and match Squeeky Clean with Creighton's hair products. The Beautiful Brunette shampoo in their range won a Hair award back in 2013, so your mum will get an award winning product if she's dark, and all for £1 again at Poundland. To nourise and care for her hair, she can also pick up Argan oils and Keratin Pro
Memory Lane puzzle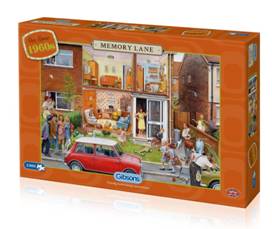 Why not give mum a trip down memory lane with a puzzle that will take her right back to the heart of our homes. She might recognize the popular curtain patterns, the wallpaper or even the style of clothes that they wore.
The Memory Lane 1000 piece puzzles are new to the Gibsons Games 2015 range and will be sure to provide the more mature mum's with a great sense of nostalgia. As with all Gibsons puzzles the beautifully illustrated pieces are made from the highest quality 100% recycled board and are a pleasure to work with over and over.
MUM's Notes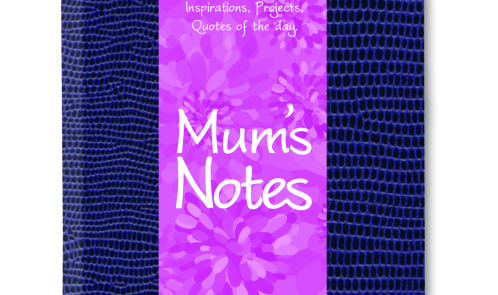 At £12.95, this stunning notes journal comes in blackberry, raspberry, silver or peppermint with reptile-effect hardback covers.  A beautiful self-indulgent journal designed to record anything and everything in her life: thoughts and daydreams, inspirations, special projects in the home or garden, words to remember, quotes of the day – a great keepsake for treasured memories.
Gorgeous baby bags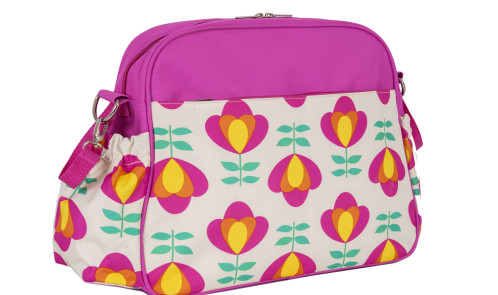 Treat new mums to a chic and affordable baby bag from Rosebud London. Designed by Pink Lining's Charlotte Pearl, Rosebud London offers similar sophistication to its sister brand at affordable price points, allowing every mum to experience a stylish motherhood. Available in two attractive and functional styles, the Boho and Tote feature retro blooms in vivid pinks, oranges and yellows. Both are £42.99 and available at Mothercare, Tesco, and www.pinklining.com/uk
Treat mum to proper hot chocolate with Jaz and Jul's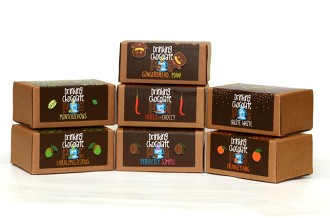 Jasmine Kershaw and Juliet Sampson (aka Jaz & Jul's) make proper hot chocolate by hand in London, using ethically-sourced organic dark chocolate. They combine real dark chocolate shavings, spices and fruit oils to create a variety of unique naturally-flavoured drinking chocolates that are quick and easy to use at home or in coffee shops. Jaz & Jul's Hot Chocolate is made using organic single-origin chocolate sourced from small producers working in Peru, Madagascar and Brazil. All of the chocolate used is fully traceable; Jasmine and Juliet believe it is important to know the full journey of the cocoa beans so customers can trust the quality and ethics of their finished products. Farmers are paid above fair-trade standards, with the chocolate delivered to the UK as directly as possible. Taking flavours that traditionally work well with chocolate and adding their own individual twist, Jaz & Jul's collection of proper hot chocolates are a truly unique treat. Whether it's the delightful Cinnamon Rose, dark peppermint classic Mintchievous or spicy Chilli con Choccy scented with cinnamon, nutmeg and clove, their wide range offers something for everyone.
Book – When I Met You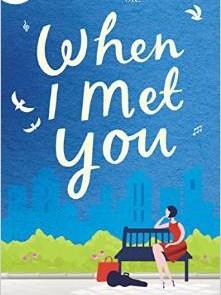 We all know mum's (old & new) enjoy a good book so I thought that the new title by Jemma Forte would be perfect idea. Available from February When I Met You is the fourth book from the rather lovely Jemma and also the perfect read for 2015; Marianne Baker is happy.  Sort of.  She's had the same job for 15 years.  She's 31, still living at home with her mum and sleeping in a single bed.  Playing the violin is her only real passion – but nobody like her does that for a living. Then one night everything changes.  The father who abandoned Marianne as a child turns up on the doorstep, with a shocking secret that changes her live forever.  Suddenly her safe, comfortable world is shattered.  If her father isn't the man she though he was, then who is he?  And more to the point, who is she? Published by MIRA and available at £7.99.
Smootch – fun protective case that's perfect for hands-free selfies with the family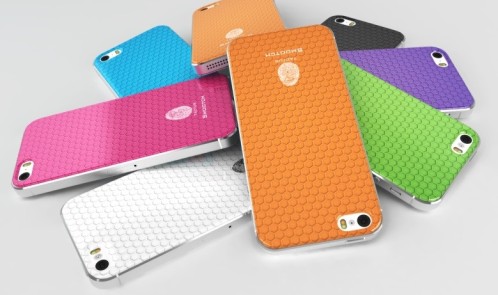 With seven vibrant colours to choose from, this super smart gadget is perfect for the selfie-loving mum who loves hands-free FaceTime or photos with the family. A protective clear case shields devices from damage, while built-in micro-suction technology allows you to stick your phone to smooth surfaces including glass and mirrors, without leaving a sticky residue, enabling perfect hands-free pictures. The Tactus Smootch is available as skin for the iPhone 5/5s and as a protective case for the iPhone 6. For iPhone 5/5s/6 (4.7), from £9.99, Argos.