Bargain Christmas gift ideas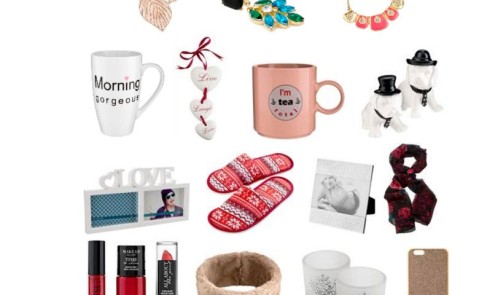 It's such an exciting time of year. I have started to do my Christmas shopping so decided to do a round up of my favourite ideas, so far. There are so many that I have put them in no particular order, so hopefully I will inspire some of you. Happy reading and shopping.
Adult colouring books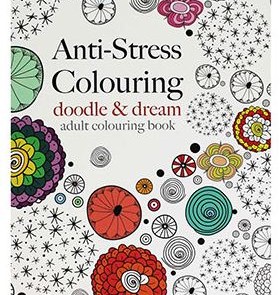 TheWorks has a great range of these, typically around £6 or less. this one is a de-stressing and calming collection of beautiful and intricate patterns created to focus the mind on the moment. Creativity replaces anxiousness when pencils and pens are put to paper in this intricate collection of illustrations. Each of the individual drawings is accompanied by inspirational quotes and specially printed on a single page with the reverse left blank so you can cut out and keep, to create a picture perfect for framing or displaying.
UStarnovels – personalised classic novels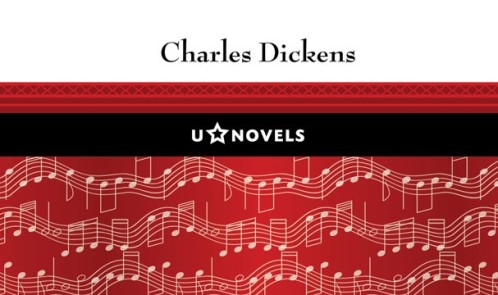 This is an amazing idea. These fun books offer a unique spin on classic literature by making your kid the star of a novel, starring alongside 6 of their friends or family members as the other leading characters. They can become Alice from Alice in Wonderland, Anne from Anne of Green Gables or Peter from Peter Pan, and more… we have over 15 titles available. I ordered a Three Musketeers book, with a customisable cover, picture on the back and names of eight characters and the boys loved it…they thought it was so funny. The books are good quality and a highly recommended present idea. They are £16.95 and available from http://www.ustarnovels.co.uk
Ordnance Survey custom made maps £16.99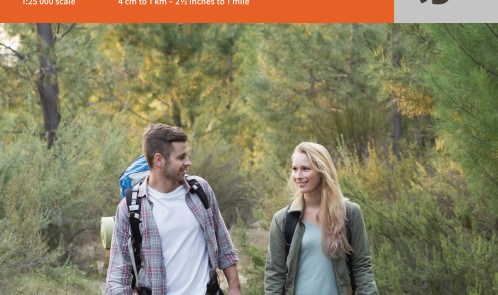 If a picture is worth a thousand words, then an Ordnance Survey custom made map tells a story – your story. This Christmas have your memories – where you were born, where you met or where you live – placed at the centre of one of OS's iconic maps. Your highly detailed and accurate, totally unique flat map is an excellent reminder of place and location, and is a stunning piece of craftsmanship and art that when framed and positioned on the wall will always provide a talking piece. Or for adventurers there is OS's custom made folded map. Decide on your location, upload a personalised image to be its cover, choose its scale and have it printed on the same quality paper as Ordnance Survey's much loved existing map ranges.
Gear4 Espresso Bluetooth speaker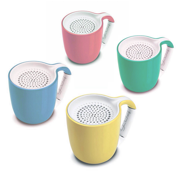 Perfect for coffee lovers everywhere, Gear4's cup shaped Espresso Bluetooth speaker blends discretely in to kitchen interiors or stands out among friends during coffee mornings. Unlike many other small speakers, the Espresso delivers an enhanced bass tone that creates a richer sound for the year's biggest music hits. Its handy carabiner clip means it can be securely attached to clothes or bags when the user is out and about. To make sure users never miss a beat, the speaker features a rechargeable lithium-ion battery that offers up to four hours playback time, making it the perfect travel companion.£19.99 from Amazon.
Virgin Experience Days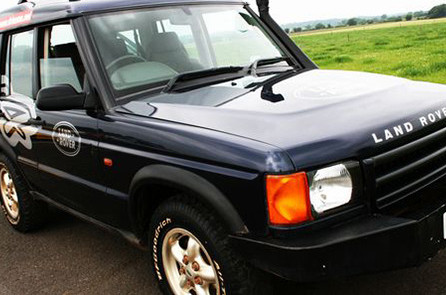 Here are a couple that appealed to me: 4×4 Off Road Thrill: £19.50 (save 32%).  Become the master of the demanding terrain with this fun introduction to 4×4 off road driving. With the wheels churning and axles grinding, learn the skills of observation, planning and manoeuvring as you tackle steep muddy slopes. The car will bounce and turn in angles you could never imagine whilst you learn to get the best out of your off road vehicle as you tackle the challenging terrain. Falconry Taster: £19.50 (save 50%) is another idea. Get close to these magnificent creatures and learn the skills required to handle our feathered friends. Encounter the fascinating bond that can develop between this fearsome bird and the handler. This Falconry Taster experience lets you see the incredible bird-of-prey up close and you'll get the chance to handle the animal yourself during this hands-on and informative 3 hour experience. You will witness an amazing display as you see them in flight, and bring your camera to capture the awesome moments.
Mobile min shaver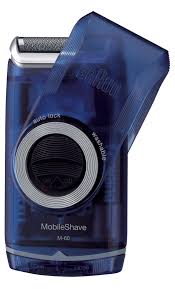 The UK's "favourite travel shaver" receives a 'first-class' upgrade. MobileShave now comes complete with Braun's trademark SmartFoilTM technology, meaning it's now even easier for men to stay smooth on the move. This stylish grooming accessory is now available in two varieties, both fully washable under running water for ultimate convenience. Its compact design ensures it is the ideal companion at work, on business trips, holidays or even long weekends away. It fits in every pocket, making it perfect for quick touch-ups on the go. RRP: £17.99 at Boots.com.
Two Together Rail Card
The Two Together Railcard provides savings of a third off rail fares for two people travelling together to destinations within the UK, as well as access to a number of great days out, including discounts on selected attractions, theatre tickets and UK holiday destinations. Costs £30 from www.twotogether-railcard.co.uk.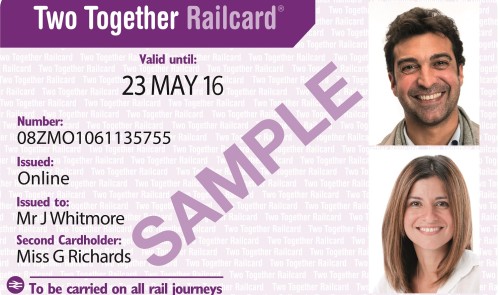 Protective headphones for kids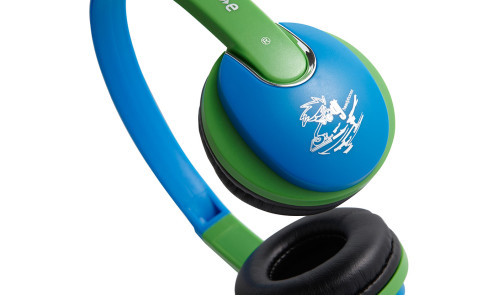 The Kiddiez are a pair of fun headphones for kids that feature volume limiters to protect young ears. They retail at £13.99 and are available from Tesco.
Fulton Junior Panda Umbrella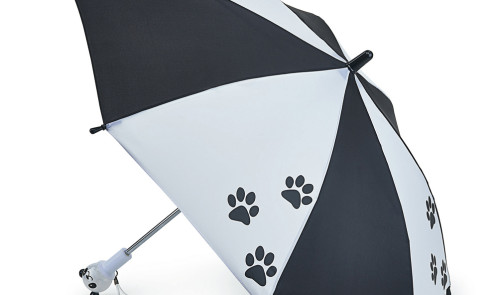 Fun, stylish and practical, Fulton's Junior Panda umbrella is perfect for protecting your children on the drizzly walks to school in the morning or the wetter weekend's spent in the park. Priced at £12 and with features patented technology to prevent injury to small hands when opening and closing, this umbrella is a must-have for your little ones. Weighing only 207g and with a 68cm span when open, this umbrella folds down into an ideal school bag size without compromising on quality. RRP £12 at: http://www.fultonumbrellas.com/
Credit card sized mobile and tablet stand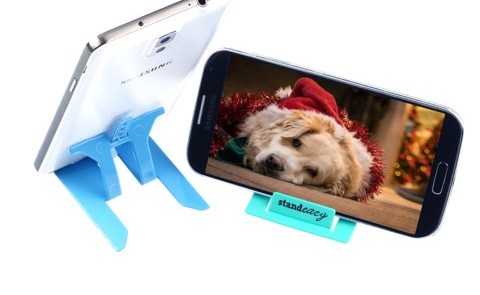 Stocking fillers are notoriously hard to find and research can quickly turn into a bit of a nightmare when you are looking for something 'a bit different' that doesn't come with a surprising price tag. Inexpensive choices become quickly limited and frustratingly dull. That's where Standeazy is a simple choice for every budget. Credit card sized phone stand – works with smartphones (also the larger ones) and mini tablets/e-readers  Fits in any card wallet from £2.99. Stocked at: DreamGB, Amazon, Etsy and Standeazy.com
Personalised mugs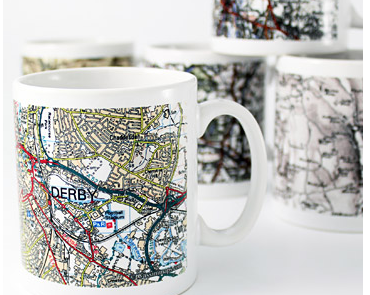 A beautiful ceramic mug personalised with a map of the postcode of your choice. Choose form one of 5 different maps dating from 1824 to the present day.  http://www.cassinimaps.co.uk/shop/personalised-mugs.asp – £11.99 + £2.99 delivery = £14.98.
Kids educational card game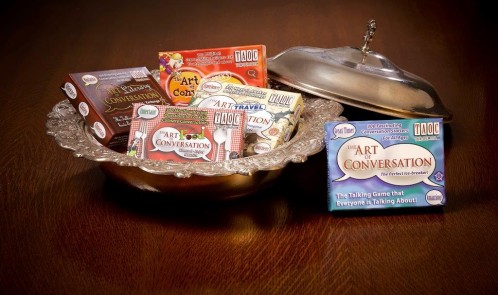 The Art of Children's Conversation is an award winning card game that builds children's confidence, communication and listening skills. All titles in The Art of Conversation range are available now from all good bookshops and online retailers, priced £9.98.
Avon Attraction EDP for her and Attraction EDT for him
An exciting new fragrance for both men and women, which has been built around Avon's exclusive magnetic musk accord, a unique blend of amber, musks and woods. It's designed to capture the undeniable rush of sheer attraction and ignite desire when worn , £15 each at avonshop.co.uk.
Stanley Metal Latch Toolbox 20in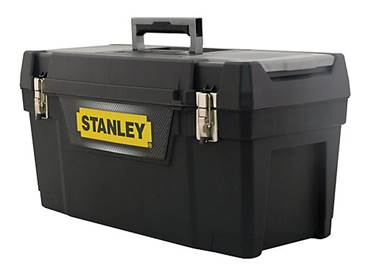 The Stanley Metal Latch Toolbox has an extra wide soft grip handle on top for easy lifting. Its innovative design, combined with its robust structure and large storage volume make this the perfect gift for anyone looking to organise their tool collection ahead of their projects in the New Year. Just £13.99 online and in Wickes stores nationwide!
Baking Club subscription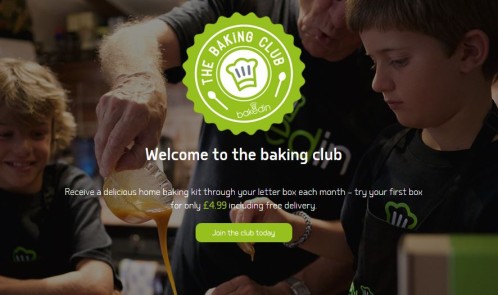 This is a little more expensive than the other gifts but as it's a subscription, you could spread the cost during the year. Baking has never been so easy with the Baking Club's less fuss and no waste baking kits, and exclusive recipes from Michel Roux OBE.  The Baking Club is the ideal present for any of the keen bakers in your life. The Baking Club subscribers will receive exclusive baking kits including dry ingredients, recipes and baking tips through their letterbox each month.  Baking Club costs just £4.99 for the first month and £9.99/month thereafter with gift packages available for three (£29.99), six (£54.99) or twelve (£99.99) months! For further information, visit www.bakedin.co.uk/bakingclub.
The Fragrance Shop – Discovery Club
This costs £5 per quarter, the box contains the best of the year's fragrances for both men and women as well as money saving vouchers to keep the cost down when it comes to purchasing your full sized favourite. The best part? This fragrance-tastic gift is the perfect size for slipping into any Christmas stocking!
HARIBO's Starmix Tube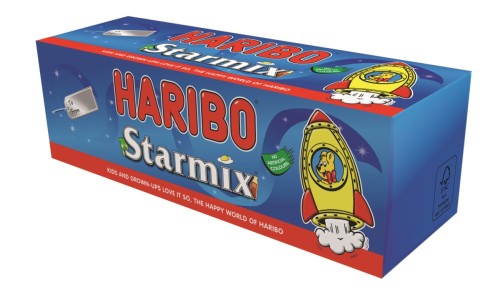 If you're stuck for stocking filler ideas or sweet gestures for Secret Santas, HARIBO's Starmix Tube could be just what you're looking for. Packed with HARIBO's most popular treat, this tube is great tasting and great value! And Master Bargain Hunter has revealed that they are actually bigger sweets than you get in the normal multi packs, so they were a definite winner with him. The gift tube has an RRP of £1.00, and you can write your recipients name on it, so no need for wrapping!
Kids electronic toothbrushes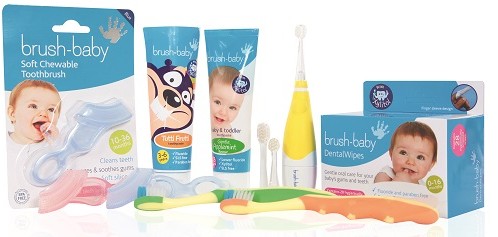 The KidzSonic is an electric Toothbrush with flossing bristles. An inbuilt 2 minute timer with flashing disco lights completes the picture. It includes battery and 2 replacement brush-heads. Great for 3-6 years, they even have one for babies too. It's £12.95 at Asda, Boots, John Lewis, JoJo Maman Bebe, Mothercare, Ocado, Sainsbury's, Superdrug, Tesco, Waitrose. www.amazon.co.uk and www.brushbaby.co.uk
Mobile phone charger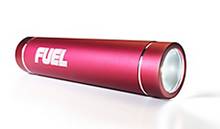 The Patriot Fuel Active battery re-charger + LED torch will keep devices topped up constantly, and the built in LED torch is super bright – £14.99.
Personalised decorations and gifts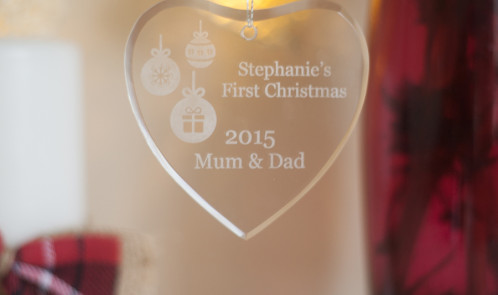 Giftsonline4u has a range of glass shaped Christmas decorations which can be personalised with a message of your choice. These are a lovely keepsake and a special addition to any family Christmas tree. The glass baubles and tree hangers come in at £15.99 but you can use them every year and they are soooo pretty, and the retailer has plenty of other personalised gifts.
Sugar free chocolate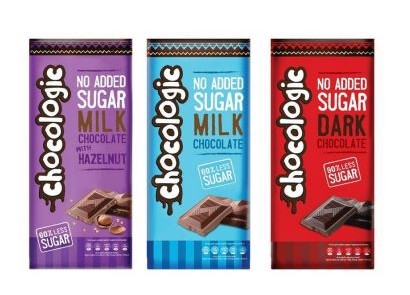 From bars to gift boxes to assortments, Chocologic is now in the UK. What sets Chocologic apart from its competition is the main sweetener alternative – Steviol glycosides, more commonly known as Stevia. It's a natural sweetener and sugar substitute extracted from the leaves of the plant species, Stevia rebaudiana. The naturally sweet plant extract tastes delicious when combined with the cocoa in the Chocologic range and will appeal to chocolate lovers everywhere. The chocolate ranges from £1 – £3.50 which is a real bargain and is in Tesco.
Beautiful canvases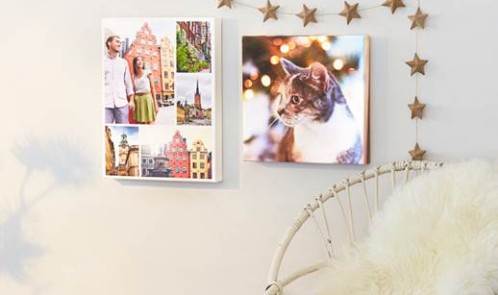 You've shopped together countless times. You know their style inside out. But when it comes to your best mates, you still can't decide what to get them for Christmas. Why don't you go for something that brings out the laughs AND the awws?  Bring some old school 'cool' to photos of your best times together with a Retro Canvas, or sneak a set of Retro Prints in their jacket pocket for a festive surprise.  Bet they didn't see that one coming! Prices are Retro Canvas, available in 3 sizes, from £11, Retro Prints – From £9.99/pack and between 13th and 19th November you get 30% off when you spend £30 at Photobox.
Joules Buddie Junior Rucksack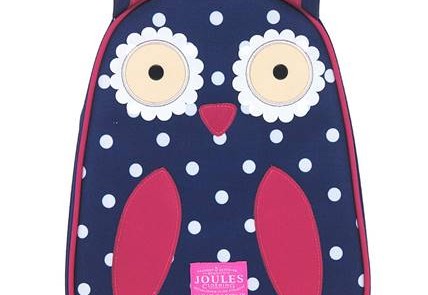 The Joules Buddie backpack is a super cute character rucksack that's designed with daytrips in mind. Ideal for carrying all of their essentials, included inside the owl design is a plastic lunchbox with a detachable soft storage compartment on top. A zip fastening secures everything safely inside. Choose from a navy spotted owl or a ditsy kitty cat design – each comes with a comfy carry handle to the top and padded backpack straps. At £19.95 from  Charles Clinkard Online.
Bugnoculars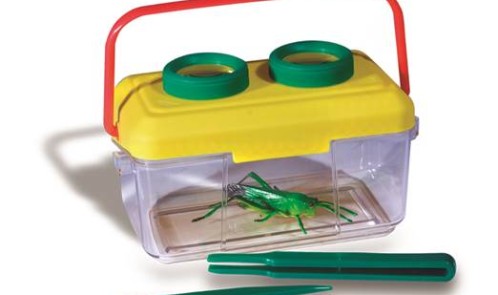 With 3x twin magnifiers, the Bugnoculars have air holes and a built in carrying handle that folds down when viewing. Supplied with 2 kinds of tweezers, its watertight design allows you to also view pond life. From http://www.eduk8worldwide.com at £13.94 including delivery.
 Bathtime treat
My sons and I use this and it would make a great Christmas gift. For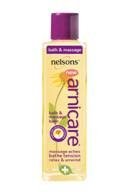 those who like nothing more than to relax and unwind after a busy day, Nelsons Arnicare Arnica Bath & Massage Balm, is a dual purpose balm enriched with Evening Primrose and rich Sweet Almond oil to naturally hydrate the skin. Designed for massaging into tired muscles or for use in a relaxing bath following a hectic day, the natural properties of Arnica Montana extract and sweet scents of Lavender and Grapefruit essential oils help calm senses and relax the mind. It's the perfect present for mum to help her unwind after a busy Christmas. Nelsons arnicare Arnica Bath & Massage Balm – £8.15 RESCUE, Spatone, Nelsons arnicare and Nelsons Calendula are all available from Boots, Holland & Barrett, independent pharmacies and health food stores, grocery stores nationwide and online at www.amazon.co.uk.
Really Nasty Bankers Game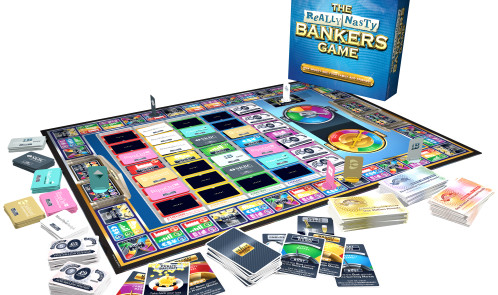 Christmas is the perfect time to get the competition flowing within the family with a game. From the 'Really Nasty' range, players can feel exactly what it's like to squander away billions and earn a big fat bonus in The Really Nasty Bankers Game.  This is the latest game to launch and brings out the competitive side to all players! The Really Nasty Bankers Game RRP £19.99 from Debenhams, WHSmith, Amazon.
Cadburys for Christmas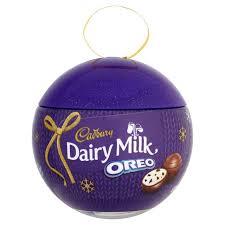 Add a touch of Cadbury Christmas purple to your tree, or surprise your relatives by gifting them with the new Cadbury Dairy Milk Baubles. These spectacular supersized baubles are available in two different varieties. Cadbury Dairy Milk Oreo Baubles are filled with Cadbury Dairy Milk chocolates complete with a vanilla flavour filling and Oreo biscuit pieces.  Cadbury Dairy Milk Snow Bites Baubles includes 4x34g bags of Snow Bites; Cadbury Dairy Milk chocolate balls encased in crisp sugar shells and dusted with delicious icing sugar. These Baubles are perfect for a fun gift for any member of the family. RRP £4.99. They also have chocolate Santas, winter editor chocolates, funny Freddo faces and they are all in my favourite purple wrapping. They taste good and who can say no to a Cadbury's chocolate bar, either as a stocking filling, tree decoration or main gift…yum.
Personalised diaries
New personalisable, start date-flexible diaries and notebooks from TOAD® Diaries. They make ideal Christmas gifts and I think would be a great fit for the 'general' gifts in your guide.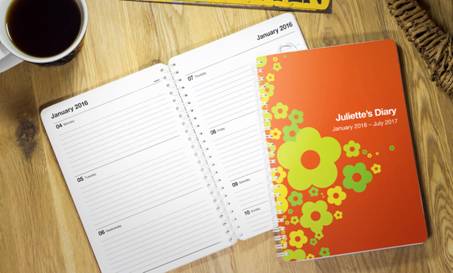 New personalisable, funky covers for Christmas 2015 perfect for any family member – for mums, dads, the teen in your family, fitness fanatics, or your career-focused friend. Create your own customised diary, notebook or journal in seconds at www.toaddiaries.co.uk
Go online and write your own wording for the front cover, choose any combination of start date (not just Jan 1st!) / any end date (from just 4 months long up to 3 years long), choose any combination of page size and layout format and have a copy in your hands in just 3 days from £13.93.
Code Master coding game
The Ultimate Coding Adventure! In Code Master, your Avatar will travel to an exotic world in search of power Crystals. For all 60 levels, you'll have to use programming logic to help your Avatar collect the Crystals and land at the Portal. RRP £15 www.amazon.co.uk
Maker Studios imagination game
Maker Studio™ inspires imagination and a love for engineering. In this set featuring gears, you'll be able to build a race car, a cable car, a 3-wheeler and a motorcycle. For each build you're given Engineering Challenges – experiment with friction, torque and propulsion as you engineer your solutions. Once you've mastered all four builds, get creative and design something that's all your own! RRP £15 www.amazon.co.uk
HUGGIES® Style on the Go Wipes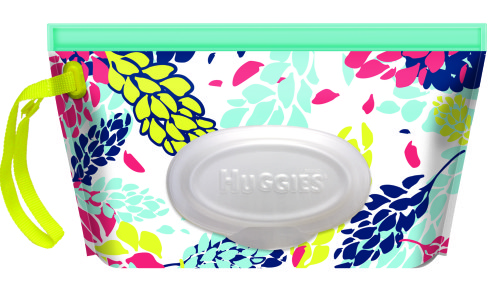 The most stylish way for mum to keep wipes close while out and about. The refillable pouches come in three designs and are made with natural absorbent fibres for healthy skin and gentle cleaning on the go. Free from perfume, alcohol, parabens and phenoxyethanol. They cost £3.00 and you can get them at Asda.
Cute baby shoes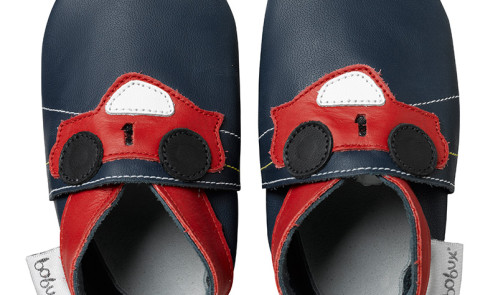 My youngest wore these gorgeous shoes, and they are an awesome gift. The originators of the soft sole shoe, Bobux offers around 70 styles in its extensive collection. The soft sole's non slip suede sole helps little feet  grip and stretch while crawling, cruising or walking and the elasticated ankle ensures they stay on – providing barefoot comfort for indoor use for newborns-5yrs. They cost £20 and you can get them from www.bobux.co.uk
In The Night Garden Wobble Toys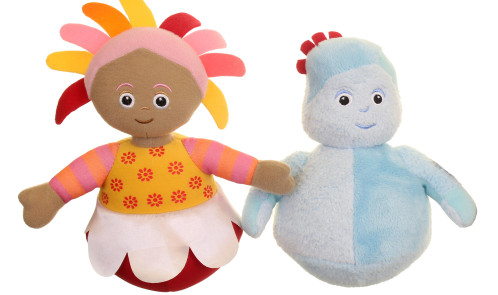 Children can have great fun making Igglepiggle, Upsy Daisy and Makka Pakka wobble with the character Wobble Toys. A combination of a plush top and plastic base, the toys make a lovely chime sound each time they wobble. Available at: All good retailers.RRP: £9.99.
Sylvanian Families Christmas Set, £19.99, Amazon

This cute Sylvanian Families Christmas Set comes with Freya Chocolate Rabbit, all the Christmas trimmings, a star-topped tree and matching sparkly decorations. There are gifts included too – a selection of wrapped parcels and a mini Cosy Cottage, bunny and car. Sylvanian Families is celebrating its 30th birthday this year.
Aquabeads Beginners Studio, £13.99, Toys R Us
Start getting artistic and creating beady masterpieces with the Aquabeads Beginners Studio! Perfect for budding artists, the set comes with over 800 beads in 12 colours, a shooting star-shaped bead storage case, 1 sprayer, 1 bead pen and 4 template sheets.
Gorgeous gifts from Poundland
Here's a snapshot of the lovely items they have…they speak for themselves.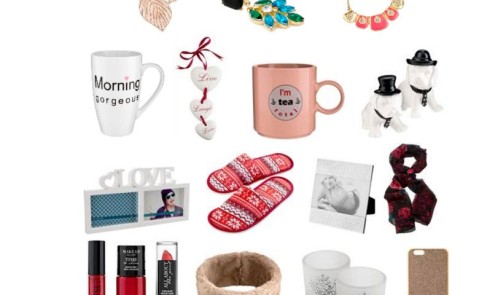 Gifts from Sainsbury
A RHS Bird House at £14 and Sainbury's Tea Huts at £12.
Faux fur stole
Make a sophisticated addition to your collection of seasonal accessories with this women's grey faux fur stole, With a soft to touch design, this stylish stole is perfect for giving any outfit a glamorous finishing touch.