Cat arch – bargain cat gift idea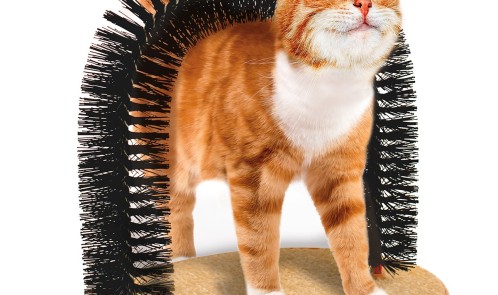 I looked after one of my friend's cats recently, so wanted to find bargain cat gift ideas. When I watched them I noticed amount of hair that they left around the house and all over my clothes. So when I was offered the new JML Purrfect Arch to try, I thought fantastic, could this be a gift to help with pets' hair moulting?
The Purrfect Arch is an arch of durable bristles sitting on a carpeted square base, Your cat can rub against and walk under the bristles to remove loose fur or scratch their own back, while the carpeted base is meant to be used as a scratch area that detracts your kitty from going for your furniture. Sounds good right! The arch also helps cut down on shedding and fur balls, massages your feline friend and can be infused with catnip to give your kitty a playful treat break.
So what does this wonderful arch cost? The price is £19.99 from retailers such as Very.co.uk, which I am not sure seems worth it. Why not? Well, you could just buy a pretty cat comb / brush for a few pounds at a local pet shop and help support local businesses and spend the time actually taking care of your cat while giving him or her a bit of attention.
But, for those who are lazy and would just rather the cat takes care of its own matted/tangled hair then you can always grab this item from Wilko.com for the more reasonable price of £9.99. Or, Amazon even beats that price with new stock currently reduced to £7.39 with free UK delivery – a far more likely price for this item.