Never lose your keys again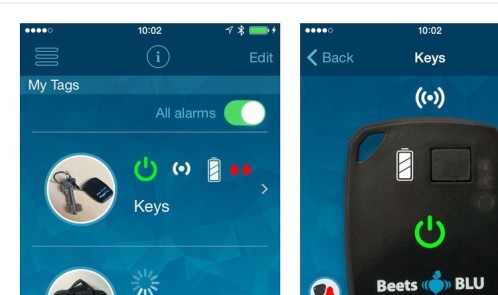 Last year my son lost his school bag for a whole week and I decided that I needed to find something to tag his property with so that we could track it and ensure his books never got lost again! I pre-ordered a Tile, but after several months I still had not received it, so a tracking device slipped my mind. Anyway, I recently lost some keys so I looked around and bought a BeetsBlu PagerTag.
The PagerTag is a slim, small and simple device that I put onto my keyring and then from my phone, I startup an app, my PaperTag makes a sound and I can find my keys. No more hunting for them frantically and no more borrowing keys!
It is compatible with most major smartphones including iPhone 5s, iPhone 6, iPhone 6 plus, Samsung Galaxy S4 and Samsung Galaxy S5. You just need to install the paper tag app in your phone and add the tag to your keys, bag or whatever.
This tag helps you to detect lost items and alerts go off when the item goes outside a set range and can:
Keep track of your valuables (keys, wallets, suitcase, laptop bag, backpack – whatever is tagged with PagerTag)
Detect the proximity of lost or forgotten items wirelessly
Alert you when your item shifts outside of a connection range (about 15 feet/5 meters)
Send sounds and enable an LED light to alert you
Save the battery life using Bluetooth Low Energy protocol
Save you a lot of time and anxiety
It costs £18.95 from Amazon which is pretty attractive considering the cost of a new set of keys,
especially if you have more than one on a fob…and the stress of losing keys.
PagerTag is great for the following uses:
Finding your keys in a rush or you can't find them in your bag
Finding your wallet or purse if you left it somewhere or misplaced it
When attached to a travel bag, your phone will notify you when it is nearby atthe baggage claim area
If your tagged pet is outside of a set range
For finding stolen items