Style on a shoestring – how to shop for second hand clothes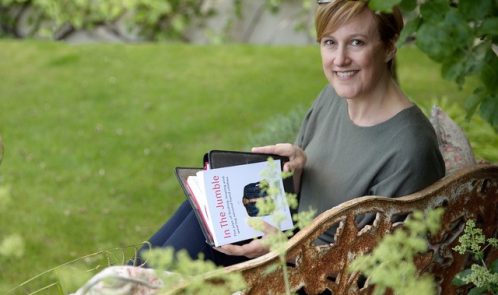 There are plenty of books about personal styling, but few use second hand and charity shops as their source.
Personal stylist Victoria Lochhead from Frankie and Ruby has written In the Jumble to show readers how they can build their wardrobes from second hand clothes.
Victoria is passionate about doing all she can to shop second hand. If you've never considered setting foot inside a charity shop or a jumble sale before, her witty, readable book tells you where to go, what to look for and what to avoid.
It provides tips on regaining control of your wardrobe, understanding your style and organising your clothes and gives simple rules to follow when you're out shopping so that you find things that suit you and work with things you have at home.
Victoria told Mrs Bargain Hunter "I really believe that looking fantastic needn't cost the earth, in both financial and environmental senses of the word.  If you understand your own unique rules of colour, shape and style, then it is perfectly possible to shop anywhere and look amazing.
"I regularly take clients to second hand shops, and their response to the amazing things I've found for them has inspired me to write In the Jumble and share those tips and ideas with more people."
Five reasons Victoria recommends second hand clothes shopping:
Less fashion seasonality
By shopping second hand you will often find you have more choice available for your own colours and body shape and you may even find that you dress in a more individual way.
Choice
Too much choice lends for a confusing and time-consuming shopping trip and these days, you'll find that the quality of second hand clothes being so good, there is plenty of choice out there.
Quality
The quality of second hand clothes these days is excellent – many items still have the labels on and good designer brands can often be found for a fraction of the price.
Cost savings
If you're buying something for a special occasion, then it can seem a lot to go to the shops and spend over £100 on one outfit that you'll probably only wear once or twice. Buying second-hand means the cost per wear comes right down.
Recycling
It's a good feeling to know that you're helping reduce the number of clothes that end up in landfill, reducing the environmental burden of new clothes production.
In the Jumble is available at https://www.frankieandruby.co.uk/