Mrs Bargain visits Peacocks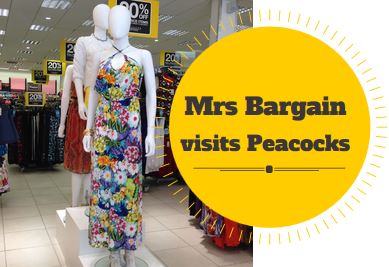 Peacocks definitely has thrown off its fuddy duddy image. I went in for the first time in years as a new branch has opened up near me.
What I found was florals, maxi dresses, jumpsuits and much more. The store manager was really sweet and when I asked him what the best sellers were, he took me around the store and showed me about 20 items, including a sort of boho range called Post Script.
I would say that the store catered more for the younger ladies now, from teens to 30s, with a small but decent range for men and much younger children and babies. There is a permanent 10% off for students and the prices were really good compared to Marks and Spencers and Next, but of course you get what you pay for and I would see these clothes as wear for a season type purchases.
The store I went to crammed a lot of stock into a relatively small outlet. I wouldn't like to go in when it's crowded.  I have been to a mega Primark store, so of course that has more choice, but nonetheless I was impressed by what I saw.
Prices compared well to Primark and the quality looked similar.
Here are some of the goodies they had there. I have tried to include the price on the images, but as a guide, maxi dresses were around £18, the short dresses around £16, pumps were £10 and bags ranged from £12 – £15.