Low cost yet fashionable shoes – Linzi.com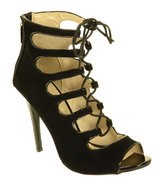 Now if you've been following my Twitter, you'll see that like most women, I love shoes.
I sometimes buy shoes that I don't really wear that much. For instance, I needed some new boots and instead of the shops, I headed to my collection and dug out two pairs that had heels and soles that evidenced that they had hardly been worn. And sometimes, I buy shoes because they are just gorgeous.
Anyway, I've been hunting around for reasonably priced online shoe shops and found Linzi.com. They have stores in the East End of London and Essex, but hey that's too far for me to travel. I asked them to help me with 2014 spring shoe trends, so that I can get low cost shoes that are bang on trend.  Anyway, the lovely people there got back to me and this is what is hot this spring 2014:
Strappy shoes
Bright colours
Opalescent rainbow shoes
Hologram fabrics and hologram heels
Fabrics very important, check, Missoniesque knitted fabrics
Heels will be very big this Spring i.e. chunky, see through, shapes & all size heels
Pool side sliders, flip flops for day wear
Jelly shoes
Comfortable and practical flats
Of course, that's loads of information, but here's what some of that writing looks like in pictures:
So from left to right, they are:PHYLLIDA £15.00, currently buy one get one free; FLORIE – 4.5″ heel – soft faux suede – £35.00;  GRAZIA – 6″ heel height/2″ platform – soft faux suede – £45.00 and NADINE – 4″ heel – Hologram fabric £25