Great value new in-shower products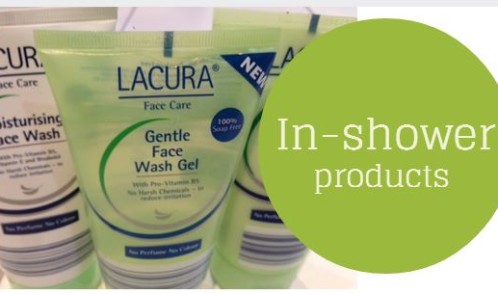 I wanted to share the three items that are currently my favourite things to use in the shower – they are all relatively new to the market. They are Aldi Lacura shower face washes and scrubs, Nivea in-shower moisturisers and Elvive's new thickening shampoo and conditioners.
Basically they are all beauty and grooming products that save me time in the morning and are good value.
Lacura facial washes and scrub
As I walked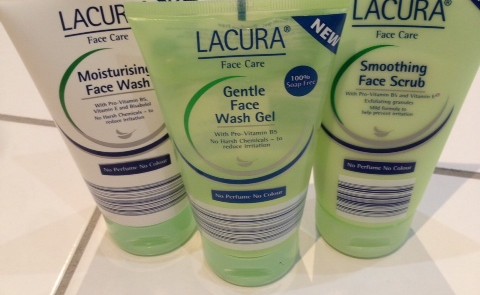 past the toiletries in Aldi I saw the Lacura's Gentle Face Wash Gel. Since the cost of the face wash is so low – £1.29 for 150 ml – I thought what the heck and bought one, even though my skin has had a bad experience with a Lacura moisturiser (granted it was a few years ago.)
A little goes a long way making this a good value product and a great daily face wash as it is gentle, and my skin felt fine after use – not too dry. My one 150 ml tube has lasted two months when I used it six days of the week. It is fragrance free and promises no irritation. It did what it said on the bottle and I used it for two months before giving it my seal of approval.
I liked the facial wash so much, I got in touch with Aldi and asked them to send me the moisturising face wash and the scrub for me to try, both at £1.29 for 150 ml. I actually prefer the moisturising face wash as it has a good lather. It has a lanolin type smell but definitely left my face softer than the gel.
I was happy with my bursting beads facial scrub from Clean&Clear. But I tried Aldi's version and it has tiny grains rather like when you have microdermabrasion. I like the refreshing feeling and bursting beads in my normal scrub, but the funny thing is that I want every bead to burst. As I am in a hurry, the Aldi scrub is actually better for me especially £1.29 for 150 ml.
The products are great combined to get rid of dead skin a few days after too much sun exposure. I have used them on my kids for a mini facial, with the scrub and the moisturising facial wash –  it's a bit of a treat and I know I am not using anything harsh on their skin.
Nivea Body In Shower Lotion Rich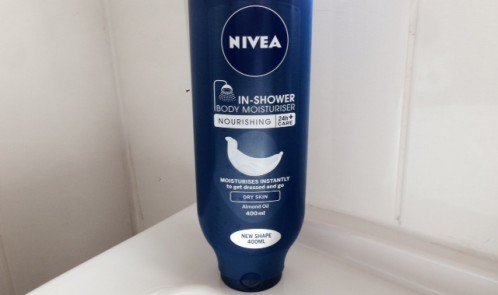 So I got some samples via Latestfreestuff and they were so good that I bought two bottles as Superdrug had an offer on. Mr Bargain Hunter says it is an awesome product and I encourage the kids to use it then they don't have to moisturise after the shower…which is most of the time as they don't anyway.
It is so quick and easy to use, isn't sticky and smells lovely. You simply put it on after your soap or body wash in the shower. My skin felt really smooth and soft and the feeling lasted all day. It saved me some time and I will definitely be buying this again.
Look out for offers in leading chemists and supermarkets as the price for this product can vary between £2 and £3.60.
Elvive Fibrology thickening shampoo and conditioner
I saw an ad on TV for this shampoo, conditioner and booster. I used to have very thick hair, but as time has gone on, it's thinning. I only bought the shampoo and conditioner but apparently it's best to use the booster too.
The difference since using Elvive Fibrology is pretty good; my hair is fuller and I am not joking – bouncier! I am not sure if it's an effect of these products but my wash in colour seems to hold longer too. I don't usually use conditioner, and after a couple of tries it was too heavy for my hair, so I only condition the bottom half of my hair.
The science bit – it's all down to the molecule filloxane, which increases each hair's diameter by penetrating into the fibre, expanding and thickening the hair. Elvive claim that this increased thickness will last for around 10 washes.
I recommend giving this shampoo/conditioner combo a try if your hair is thinner and flatter than you like – I even sent the labels to my mother in law so that she could buy it; it's not expensive so even if it doesn't work for you you won't have broken the bank. If you don't try it, you'll never know!
I bought 250 ml bottles at £2 each from Sainsbury's.