Free discount code on Sphere of Life winning pendant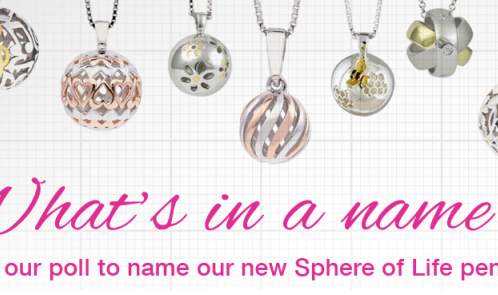 I love this silver jewellery and was excited to see that they have launched a design competition for a new pendant. To get a discount code, you just need to choose a name and if you feel adventurous once the winning name is chosen, you can submit a pendant design and win a gold version of the pendant if it wins!
In the first stage, you just have to nominate your TOP THREE NAMES from a short list, then once the name is chosen, the company is inviting you to submit a design. Even if you just vote, you get a discount code on the winning design. Vote here Sphere of Life's Facebook page for the name you like the most.
1. Thinking of you
2. Laugh Out Loud
3. Rule the world
4. Rock-n-Roll
5. Birthday Wish
6. Thank you
7. Dancing Queen
8. Too good to lose
9. Spice of Life
10. I saw this and thought of you!
You have until 23.59 pm 8 October 2014 to choose a name. Once they have a name, they will ask for your design ideas – a simple drawing is fine. They'd love to see lots of design ideas BUT there is no obligation to design. Participating in the voting only is cool too.
To see the Sphere of Life range, visit website.