Another online designer outlet – Fashionista Outlet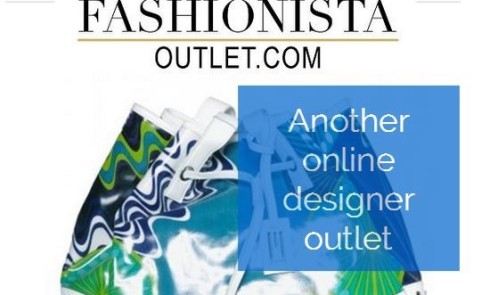 After my post about SecretSales and my penchant for TKMaxx, I started to look around a bit more to see if I could find other designer outlets online. I found Fashionista Outlet and here's what you need to know about the retailer.
1. What is Fashionista Outlet?
www.fashionista-outlet.com is an online retailer of discounted designer fashion. The designer outlet offers luxury clothing at competitive prices. Clothing, shoes, bags and accessories are all on offer here, making it a one-stop-shop for discounted designer fashion.
2. How does the site stand out from competitors?
Fashionista Outlet offers permanent discounts on designer fashion as opposed to the flash sales offered by subscriber-based outlets like SecretSales.  And unlike other online designer outlets such as The Outnet, Fashionista Outlet caters to both men and women.  The company sells worldwide, meaning that no matter where you are, you can benefit from the savings on offer at Fashionista Outlet.  The site also offers style advice for those who are interested, with tips varying from celebrity looks to holiday capsule collections.
3. What designer names are on offer?
The site focuses on the major designer fashion brands that the world has to offer with a portfolio including Alexander McQueen, Moschino, Chloe, 7 for All Mankind and Versace. Up and coming designers won't be found here as Fashionista Outlet prefers to offer household names. However since the site went global, you will find designers that are less known/popular in the UK such as Plein Sud and Costume National.
4. What sort of discounts can I expect?
The site offers discounts of up to 80% off the original retail price. There are also seasonal offers to be had, such as additional discounts or flash sale promotions. In the clearance section, you will find the biggest reductions offered on the site. If you opt to sign up to the mailing list, you will be the first to hear about the latest offers and promotions – handy if you have had your eye on something!
5. How does the site manage to maintain such low prices?
The buying team at Fashionista Outlet choose "the best items from remains, overproduction and end of season stock from every designer". These savings are then passed on to the customer.
6. Is the clothing this season?
The fashion on offer is not from current designer collections. This being said, the buying team work hard to ensure that the pieces will work with current trends. There are also many 'classic' styles on offer that will not go out of fashion anytime soon – making them ideal designer investments for your wardrobe.
7. How many lines are currently on offer?
At the moment, there are over 2000 items for sale on the site. Stock of each item is limited however and once it's gone – it's gone! Size selection of clothing is also limited due to the outlet nature of the site.
8. What is the delivery cost?
Delivery cost varies depending what country the order is being delivered to. There is a free UK delivery promotion at the moment until the end of August. The delivery fee is a flat rate regardless of how many items are purchased.
9. Can I return unwanted goods?
Yes, Fashionista Outlet offer a 'no questions asked' returns policy for unwanted items. Customers have 7 days, from receipt of goods to change their minds and request a return. Returns can be requested via email and can be sent back via the Fashionista Outlet courier service or by the customers preferred postal service.
10. When was Fashionista Outlet founded?
Spanish entrepreneur, Myriam Duran, founded the company in 2009. London based, the online retailer originally traded exclusively in the UK but steady growth resulted in selling worldwide. Particular success in Spain saw Fashionista Outlet launch a Spanish version of the site to keep up with the growing demand in that country.