10 home made beauty products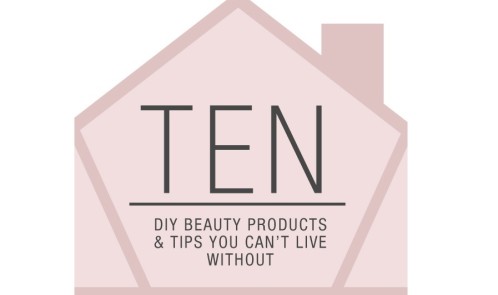 If you're looking to save some money on expensive beauty products, then you will be surprised to know that you can make your own DIY products from items in your cupboards at home, and for a fraction of the price you'd pay in the shops. Take a look at the following tips for inspiration.
1.      Homemade body scrub
Mix 1 cup of sugar (not salt as this will burn the skin) with 2tbsp of olive oil of grape seed oil and mix together in a bowl. Apply to the skin in circular motions for the best
affect!
2.     Smooth legs
Use conditioner or baby oil instead of soap or shaving cream on your legs for an extra smooth affect.
3.      Homemade Face Wash
Mix 2 teaspoons of baby wash, 2 tablespoons water, 2 tablespoons glycerine and half a cup olive oil in a blender. Mix until smooth and creamy and empty into a clean empty pump bottle. Gently massage it into your face and neck and remove with warm water after around 1 minute.
4.      Pierced ears don't have to hurt
For sensitive pierced ears coat the earring with Vaseline before inserting into your ears as this will prevent inflamed earlobes.
5.      Homemade dry shampoo
Add 5 drops of essential oils to a quarter of a cup of arrowroot or cornstarch and mix with a spoon. Using an old make up brush apply the powder to the roots or oily part
of your hair, simple!
6.      Promoting hair growth
Heat olive oil and honey to boil, cool and comb through your hair. This is supposed to help your hair grow faster and keep it smooth.
7.      Homemade stretch mark remover
Mix coffee grinds and olive oil into a paste. Massage well into the area of stretch marks for 5 minutes, then take a hot towel and wrap it around the area for 20-25 minutes – wash off with warm water and moisturise after.
8.      Brighter teeth
Mix one teaspoon of baking soda and 1 teaspoon of hydrogen peroxide with a little toothpaste and half a teaspoon of water to brush your teeth for 2 minutes. Do this once a week as your own personal whitening treatment. Or squeeze a lemon and some baking soda if you don't fancy hydrogen peroxide.
9.      Homemade blackhead remover
Mix half a lemon and 3-4 drops of honey, rub onto affected area for 5 minutes and wash off with cold water. You will see the effects immediately.
10.    Silky hair
Before bed, coat your hair in conditioner and keep it tied up whilst you sleep. The next morning wash the conditioner off to find your hair unbelievably soft and silky. Do this once a week.
Thanks to the Cosmetic Practice for some of these great tips.